Budget permitting, the NYC Department of Sanitation (DSNY) collects about 15,000 tons of fall leaves and 2,500 tons of Christmas trees for composting and brings them to Sanitation composting sites run under private contract with WeCare Organics, LLC

.
For a fee, NYC landscapers registered with the Compost Site Permit Program can drop off yard waste and purchase compost at the Fresh Kills Composting Site.



dsny outdoor composting sites


dsny leaf composting process
ALSO SEE:
collections and givebacks
what happens to nyc compost
community-based composting
food waste composting facility
organics in nyc's waste
---
DSNY Outdoor Composting Sites
Currently, DSNY operates the Fresh Kills

and Soundview

leaf composting sites.
Fresh Kills is a 24-acre site constructed in 1990 at the entrance to the former landfill in Staten Island.
Soundview is a 7-acre site constructed in 1999 on an inactive and undeveloped section of Soundview Park in the Bronx with damaged soil. As part of a mitigation agreement with the NYC Department of Parks and Recreation, DSNY is supplying Soundview Park with approximately 22,000 cubic yards of compost and approximately 11,132 cubic yards of sand/soil.
A third DSNY compost site, Spring Creek (on the Brooklyn-Queens border), was constructed by DSNY at Spring Creek Park in an area adjacent to the water treatment facility run by the NYC Department of Environmental Protection. This 20-acre facility has not yet received an operating permit from the New York State Department of Environmental Conservation (NYSDEC)

and cannot be used for composting at this time.
To locate additional composting sites, NYC's Solid Waste Management Plan

created the Compost Siting Task Force comprised of representatives appointed by the Mayor, the five Borough Presidents, and City Council.

back to top | back to composting operations


---
DSNY Leaf Composting Process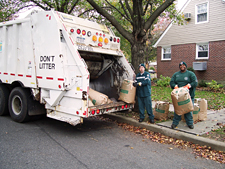 During designated periods, DSNY collects leaves for composting.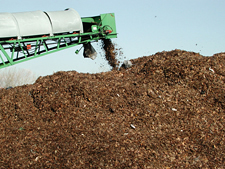 A trommel depositing screened leaves into windrows.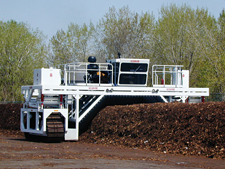 A windrow turner processing decomposing leaves.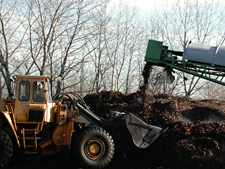 Finished compost passes through a trommel one last time.
During designated periods, DSNY trucks collect brown bags of fall leaves which are dropped off at DSNY composting sites.
As the bagged leaves are unloaded, front-end loaders (similar to bulldozers) create piles. Later, these piles are fed through a portable trommel machine, which grinds and screens the material through thousands of small holes.
The screened material is then transported via conveyor belt to long narrow piles, known as windrows - with assistance from the front-end loaders.
For the next six to seven months, a large moving platform known as a windrow turner passes over the piles weekly; standardizing their shape. This machine speeds up the decomposition process by aerating the material; gradually grinding and reducing it into smaller pieces.
A water truck also passes along the windrows. This machine spreads water over the piles, which helps the decomposition process, and prevents the resulting dust from blowing away.
Once the fall leaves have reduced as much as possible, the material passes once again through the trommel, to remove any remaining twigs. The end result is high-quality finished compost.
DSNY compost is available to a range of community gardens, nonprofits, and City agencies (see what happens to NYC compost).

back to top | back to composting operations