There are hundreds of community based compost sites throughout the five boroughs that have received technical composting assistance from the NYC Compost Project. Many of these sites host NYC Compost Project workshops, distribute literature, and/or hold community events that promote the beneifts of composting.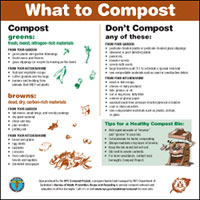 Some of the community compost sites have purchased low-cost bins through the NYC Compost Project. Or, the NYC Compost Project may have helped the site acquire or build bins or sifters. Bin and sifter styles, materials, and capacity are tailored to meet the specific needs of each site. Techniques and storage methods include 2 or 3-bin systems, open piles or bins, and/or enclosed bins.

The NYC Compost Project has also created a 2' x 2' What to Compost sign for community compost sites. This sign contains a basic list of items suitable for composting outdoors in an urban setting. It also provides six essential bin maintenance tips for composting outdoors.

To become eligible to receive a "What to Compost" sign, community compost sites must:
Develop a relationship with their local NYC Compost Project. This could include having an initial conversation with your local NYC Compost Project about your site or reaching out for composting advice. As a more involved relationship develops, your site may be able to host compost workdays or give tours of your site.
Designate a compost contact. This person serves as the main point of contact with the NYC Compost Project and must be available to answer basic questions about the compost site either via phone or email.
Have an actively managed compost system. A compost site's system is actively managed when one or more persons are working to both address problems and make finished compost.
Some of these community compost sites have had their composting efforts honored with the designation of NYC Compost Project Demonstration Sites and have received high-quality compost from the NYC Department of Sanitation. (Find out more about other NYC groups working to increase green spaces that have received NYC compost.)
To find out more about the different community compost sites, the materials they compost, and the composting techniques they utilize, click on the borough links below.

If you are a NYC resident interested in dropping off leaves, garden trimmings, or food scraps, please see community drop-offs.

Bronx


Brooklyn


Manhattan 


Queens 


Staten Island



ALSO SEE:
groups creating more green spaces in nyc 
resources for community compost sites
partnership with active citizen project

back to top | back to operations