Compost & Soil Ecology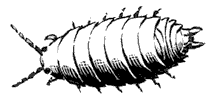 Another beneficial characteristic of compost is the presence of compost organisms—redworms, centipedes, sow bugs, and others.
The presence of decomposer organisms means that some organic material is still being slowly broken down and releasing nutrients. The decomposers are also indicators of a balanced soil ecology, which includes organisms that keep diseases and pests in check. Many experiments have shown that the rich soil life in compost helps to control diseases and pests that might otherwise overrun a more sterile soil lacking natural checks against their population.