Water Properly, If at All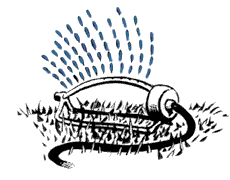 Watering improperly during the summer can do your lawn more harm than good. Many people let their lawns become dormant during hot months rather than water them incorrectly. This conserves water when it is most needed for other, more important uses. A healthy lawn will bounce back when weather conditions change in the fall.
If you decide to water, water deeply, so that roots have to push deep into the soil to reach the water. Briefly sprinkling your lawn on a hot summer day only moistens the surface, permitting roots to soak up nutrients from the top few inches of soil. This results in a weak, shallow-rooted lawn.
Lawns need a total of one inch of water per week, including rainfall. If your soil holds water well, watering for at least an hour every week to ten days is sufficient. Water twice as often in sandy areas, or when the temperature stays in the 90° F range for more than three days. Water early in the morning to minimize evaporation. Avoid watering in the evening, because a lawn that remains damp during the night is more prone to disease.