Using Compost for Trees & Shrubs



planting trees


tree & shrub maintenance


calculating quantity of compost needed for trees

ALSO SEE:
outdoor composting
compost/mulch request form for nyc street trees
indoor composting
other ways to recycle food scraps
composting equipment 
---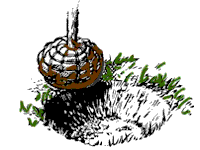 Planting Trees
When planting a tree, compost can be added to the tree hole to improve the existing soil. The tree hole should be twice as wide and slightly shallower than the root ball. Backfill three quarters of the hole with existing dirt and one quarter with compost. Be sure that you don't add
too much compost, as the tree roots will not grow past this gold mine of organic matter, depriving the tree of the stability of a deep root system. Just the right amount of compost will give the tree a nice boost for the first few years of its life.
Try to make sure that the soil of the root ball matches the texture of the native soil. A simple test is to feel the soil texture. If the root ball is a sandy soil and the native soil is clay based, the tree will be fighting to survive. Applying compost to the back-filled soil will help by easing the transition between soil types, but it does not necessarily create the ideal situation for the tree.
back to top | back to using your compost
---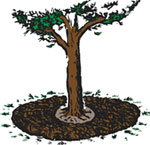 Tree & Shrub Maintenance

You can apply compost as mulch by spreading up to two inches of compost under the tree or shrub out to the drip line (the outermost leaves on a tree) or edge of the bed. This will help reduce moisture loss and stabilize soil temperature. See How Much Mulch Do I Need for direction on calculating the quantity of compost you needed when using as a mulch.
You can also incorporate 1-2 inches of compost into the soil once or twice a year to provide organic nutrients. Before adding compost to compacted soils, gently cultivate the soil with a hand tool; this will prevent damage to shallow feeder roots while making nutrients more readily accessible to the trees or shrubs. For trees, measure the total square footage of your tree pit to determine the quantity of compost you should apply. See the information 
below for clear instructions on how to calculate the quantity of compost needed for trees.

Do not place compost or mulch directly against the bark of the tree or shrub or on exposed woody roots as this could cause rot and invite pests and disease.

back to top | back to using your compost
---
Calculating Quantity of Compost Needed for Trees

Here is an easy formula to help you figure out how much compost to provide to your tree. Compost is traditionally sold by the cubic yard or in 40 lb. bags, so this is the standard used in the calculation below. Answers in the "Total Cubic Yards Compost Needed" and "40 lb. Bag(s) of Compost Needed" columns are rounded off figures.
Tree Pit Size

Total Square Footage
(L x W)

Amount Compost Needed
(=Total Square Footage x 2" Compost)
Total Cubic Yards of Compost Needed
(=Amount Compost Needed/324)
40 lb Bags of Compost Needed if Apply 2" Compost
(Note: 1 Bag=.03 cubic yards. # Bags=Cubic Yards Compost Needed  x  35.7)
4' x 4'
16
32
.099
3.5