Using Compost on Lawns/Turf


When establishing new turf, incorporate up to three inches of compost into the existing soil base. If possible, till to a depth of five to eight inches before seeding. Otherwise, seed directly over the compost.
On existing turf, you can treat bald spots by incorporating an inch of compost into the soil and then reseeding. This will fight compaction and help suppress soil-borne diseases.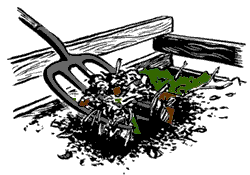 You can also topdress existing turf with as much as one-half inch finely screened compost. This is easiest with a spreader, but you can use a shovel for small areas where you want to add compost. Rake the compost evenly throughout the grass area to enable the compost to readily sift down to the soil. The compost will settle down into the soil, improving its structure and providing nutrients. Over time, this will mean less compaction, fewer bald spots, and a reduced need for synthetic fertilizers.

For more information, see the seasonal guide to a healthy lawn (naturally).

back to top | back to using your compost

ALSO SEE:
outdoor composting
indoor composting
other ways to recycle food scraps
composting equipment