Compost bins are really just containers that serve to keep in heat and moisture while keeping out pets, racoons, rodents, and other pests. They also help keep your pile tidy, which can be especially important in small yards. You don't need a specific type of bin to start composting.

selecting an outdoor compost bin


composting in a small outdoor space


rodent proofing
ALSO SEE:
indoor composting
using your compost
other ways to recycle food scraps
For a downloadable booklet on backyard composting, see current composting literature available for download.
---
Selecting an Outdoor Compost Bin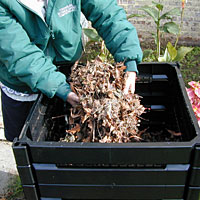 Select a compost bin based on the space you have available for composting, the materials you want to compost, your budget, and the amount of time you want to spend tending your pile.
The compost bin shown in this photo, and other bins suitable for composting yard trimmings and household kitchen scraps, are sold at certain NYC Compost Project sites. See the Composting Equipment section for information on low cost compost bins available to NYC residents as well as ideas for constructing your own compost bin.
You can set up your bin in the sun or in the shade and it can be on either concrete or soil. However, soil is preferable to ensure access to decomposer organisms and to prevent stains on the concrete surface.
back to top | back to outdoor composting
---
Composting in a Small Outdoor Space
Many New York City residents have no backyard or side yard at all. This doesn't mean you can't compost - it just means you'll have to pay special attention to your compost bin, to avoid attracting rodents and other vermin or creating any odors that will upset your landlord and neighbors.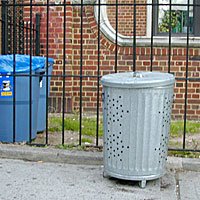 Just as members of many NYC Environmental Organizations in New York City find clever ways to "green" even the most crowded spaces, people all over find ways to compost. New Yorkers keep small compost bins on rooftops, in courtyard areas, in garbage storage areas, on terraces, and right outside their buildings. Just make sure that you have the permission of your building management before you begin your bin.
The bin shown here is perfect for small, urban areas. It is compact, tough, and completely rodent-proof.
back to top | back to outdoor composting
---
Rodent-proofing should not be necessary if your compost bin is enclosed. However, if rats are a problem in your area, you can take the following steps to make your bin more rodent resistant:
Add screens or hardware cloth to areas where rats and other burrowing animals can get through.

If your bin is placed on the soil, lay a piece of screen between the soil and the bottom of the bin.

Turn material regularly to prevent nesting.

In especially tough cases, add a vertical screen (6 to 8 inches into the ground) around the perimeter of the bin.

Avoid adding materials that attract pests (meat, dairy, oils) and ensure food scraps are well concealed beneath a 2-3 inch layer of "browns" such as fall leaves.