You can buy a ready-made worm bin, but it's really quite easy to make your own by following the steps below.

construct the worm bin


make the bedding material


keep the bedding material moist
ALSO SEE:
harvesting vermicompost
troubleshooting indoor worm bin composting
outdoor composting
other ways to recycle food scraps
using your compost
compost equipment
---
Construct the Worm Bin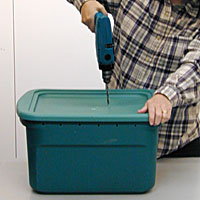 The size of the bin you need is determined by two factors—how much space you have and the amount of food scraps your family produces. Two pounds of worms (about 2,000 worms) should be able to process about a pound of food scraps a day. A surface area of one square foot is needed for each pound of worms.
Here, we adapt a plastic storage bin that is easy to find in many stores around the city. You could also use or make a wooden box. Just make sure the box is shallow (8 to 12 inches deep) and that it has a lid to keep conditions dark and moist.
Drill at least 10 half-inch holes in the top and sides of the bin for air circulation and drainage.
If you prefer, you can also purchase a worm bin through various NYC Compost Project sites.
back to top | back to indoor composting
---
Making the Bedding Material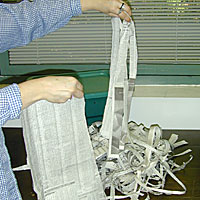 Your worms will require about 8 inches of bedding material, such as leaves, potting soil, or one-inch strips of newspaper. Bedding materials should be moist, like a wrung out sponge.
Here we are starting a bin with newspaper. Shred the newspaper length-wise into long, one-inch strips and then soak the strips in a bucket of water. Wring out the strips and add them to the bin with some dry paper strips to achieve the desired (damp) moisture level.
back to top | back to indoor composting
---
Keep The Bedding Material Moist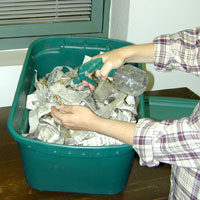 The food scraps you add should keep the bedding moist, but it may be necessary to remoisten the bedding with water from time to time.
You can use a plant mister like the one shown here to occasionally moisten the bedding material.
back to top | back to indoor composting