Once you have set up your worm bin and have been feeding the worms your kitchen scraps and shredded newspaper for about three to six months (depending on the size of your bin), you will notice that much of the material no longer resembles what you put in. Where there were once egg shells and vegetable trimmings, you will see rich, dark worm castings-or vermicompost. This means it is time to harvest your worm bin.
Here is a faster but slightly more involved method for harvesting your worm bin than the basic technique presented in the indoor composting with a worm bin guide. This harvesting method is best done under a bright light source-and it isn't recommended for people who don't like to touch the worms!

empty the bin and divide the contents into piles


brush off the vermicompost


separate the worms


collect the vermicompost


add fresh bedding
---
Empty the Bin and Divide the Contents Into Piles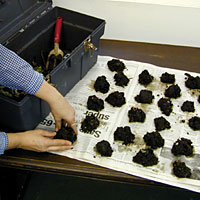 Dump the contents of the worm bin onto sheets of newspaper or a washable work surface. If your worm bin is very large, you might want to harvest half of the contents at a time.
Divide the big pile into a number of little piles.
back to top | back to indoor composting
---
Brush Off the Vermicompost
Brush the vermicompost off of the top and sides of the first pile. The worms will move slowly to the center of the pile to avoid the bright light. Do the same for each pile until as much vermicompost is removed as possible.
back to top | back to indoor composting
---
Seperate the Worms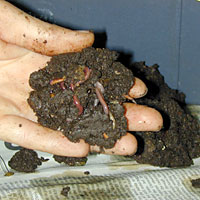 After you have separated the vermicompost, you will find that the worms have clustered in the center of each pile. Gently remove them and put them into a clean container or directly back into the worm bin.
back to top | back to indoor composting
---
Collect the Vermicompost
Scoop the vermicompost off the newspaper and place it in a container. It's alright if there are a few worms still in the vermicompost if you are going to use it in a garden. If you are using it in potted plants, it's best that no worms are left!
back to top | back to indoor composting
---
Add Fresh Bedding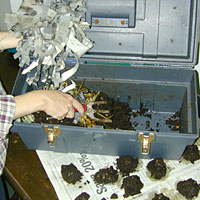 Fill your bin (or the half that you harvested) with fresh bedding. Gently pour the worms onto the surface and they are ready to be fed again.
back to top | back to indoor composting
---
ALSO SEE:
outdoor composting
other ways to recycle food scraps
nyc teacher "wormshops": worm composting for the classroom