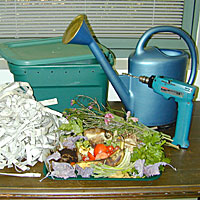 If you don't have access to (or permission to use) an outdoor composting area, you can still compost your kitchen scraps indoors with a worm bin.
Worm bin composting is not for everyone since worm bins do require some time and attention. Follow the steps below to get started, or take a composting workshop offered by the NYC Compost Project.

setting up your worm bin


adding worms to your worm bin


adding food scraps to your worm bin


harvesting vermicompost
For help with worm bin problems, see troubleshooting indoor worm bin composting.
For a downloadable booklet on indoor composting, see current composting literature available for download.
back to top l back to how to compost
ALSO SEE:
outdoor composting
leave it on the lawn
other ways to recycle food scraps
using your compost
composting equipment
composting workshops