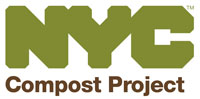 The NYC Compost Project, created by the NYC Department of Sanitation's Bureau of Waste Prevention, Reuse and Recycling in 1993, provides compost education and outreach to NYC residents, community groups, government agencies, and nonprofits.
The NYC Compost Project offers compost-related workshops and classes, runs the Master Composter Certificate Program, provides technical support, distributes DSNY compost & mulch, develops urban farms, and conducts outreach at public events throughout all five boroughs. The NYC Compost Project also operates neighborhood-based food scrap drop-off opportunities, and ensures that those food scraps are composted locally.
NYC Compost Project programs are carried out by Department-funded staff at host sites in each borough.
nyc compost project sites
composting workshops
local organics recovery program
master composter certificate course
composting programs for nyc schools
compost demonstration site program
community-based compost sites
low cost compost bins for nyc residents