make your own mulch


mulchfest drop-off locations


dsny curbside collection
---
Make Your Own Mulch for Your Garden or Street Trees
Mulch made from the smaller branches on your Christmas tree or from evergreen boughs protects and enriches the soil in your garden or in your street tree beds. When laid over the soil, branches can help prevent erosion, compaction, and the repeated freezing and thawing that can damage plants or trees. And soil structure will be improved when the needles and twigs eventually break down.
Making mulch is simple: Just cut off the smaller branches of your Christmas tree, or remove the twigs from your evergreen boughs. Lay three to four inches of these trimmings over the bare soil around street trees or perennial plantings. Remember not to place the mulch directly against the tree or on exposed woody roots, as this could cause rot and invite pests and disease.
After removing the branches for mulch, you can take your tree to a MulchFest location or leave it out for DSNY curbside collection. Contact the NYC Compost Project in your borough for more information. Also see how to use mulch.
---
MulchFest Drop-Off Locations
Remove all lights, ornaments, stands, and plastic bags from your tree and bring it to a MulchFest location on Saturday or Sunday, January 10 & 11, 2015, from 10 am to 2 pm.
Bring your clean Christmas tree to designated MulchFest sites,

where it will be chipped into mulch. At some of the MulchFest locations, you can bring a bag to take home free mulch. See how to use mulch.

NYC Compost Project staff and Master Composters will be on hand at select MulchFest

locations to provide information on composting and how to use mulch. Search for "mulchfest" on the WasteLess Events Calendar for specific locations.
back to top | back to collections
---
DSNY Curbside Collection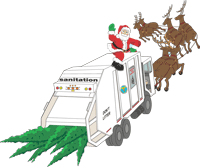 The Department of Sanitation anticipates collecting clean Christmas trees left at the curb from Monday, January 5, 2015 through Friday, January 16, 2015. Trees are chipped, mixed with leaves, and recycled into rich compost for NYC's parks, institutions, and community gardens.
Remember to remove all lights, ornaments, stands, and plastic bags from your tree before setting it out at the curb for composting collection. Trees that still have these items attached will be collected as trash.
For info on what DSNY does with collected trees, go to Christmas trees. Check the NYCWasteLess events calendar for upcoming composting workshops and events.