Tip Sheets
The kitchen tip sheet (pdf) and the custodial tip sheet (pdf) summarize action points for kitchen and custodial staff under the food waste collection program. The tips sheets are intended to serve as a quick reference, and be displayed in kitchen and custodial areas.
back to top | back to organics collection progarms  | back to collections 
---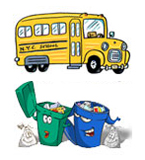 The first step to a successful school composting program is a successful school recycling program. Proper recycling sets the tone for composting, and makes it easy to "add one more bin". If participants are accustomed to separating their waste into the existing three streams (metal, glass, plastics & cartons; paper and cardboard; and trash 

), they will have an easier time separating their food scraps into a into a fourth bin.
back to top | back to organics collection progarms | back to collections
---
General FAQs
Why do we collect food waste?
How should the cafeteria be set up?
Why do we need to pour liquids into a separate bucket?
What goes in the food waste bin?
What goes in the recycling bin with the blue label?
What goes in the trash?
Where do beverage pouches go?
Do lunch trays go in the food waste bin or the trash?
We used to stack our trays. Why can't we do this anymore?
Why is composting at school different from composting at home?
How do we minimize contamination in the food waste bin?
What are the most common contamination items in food waste bin?
Where do we get bins?
How do I discourage someone from stealing our food waste bins?
Why was my school chosen or not chosen?
How can my school be part of the program?
Custodian FAQs
What if there are extra trash bins around the cafeteria that don't belong to a sorting station?
What if my bin cracks, leaks, breaks, or goes missing? 
Should we wash bins? 
Should we pour bleach in the food waste bins? 
How do I get more posters? 
When should the bins be placed out for collection? 
Who do I contact in case of a missed collection? 
What about night/weekend events with food/snacks provided? 
What about large amounts of fallen leaves or grass from garden trimming? 
Where can I find more information? 
Kitchen Staff FAQs
Where do we get bags? 
Can we consolidate bags from two food waste bins into one? 
Where can I find more information? 
General FAQs
Q. Why do we collect food waste?
A. Collecting organic material helps NYC control trash disposal costs, achieve its recycling goals, reduce greenhouse gas emissions, generate alternative forms of energy, and create a valuable commodity for local use. DSNY turns your organic waste into compost which is made available to city agencies and nonprofits for use in gardening, soil mitigation, or habitat improvements.
back to general faqs 
Q. How should the cafeteria be set up?
A. Each cafeteria should have at least one waste sorting station with the following types of bins:
Pour Bucket: for students to empty un-consumed liquids from beverage containers.
Bottle & Can & Milk/Juice Carton Bin: for students to place empty milk and juice cartons, bottles, cans, rigid plastic, and any metal and foil items.
Food Waste Bin: for all uneaten food and food-soiled paper such as napkins and the paper boats from Trayless Tuesdays, as well as bagasse lunch trays.
Trash: for anything else.
back to general faqs
Q. Why do we need to pour liquids into a separate bucket?
A. We use a pour bucket for a few reasons: (1) to make sure that beverage containers are empty when placed into the recycling bin; (2) preventing leaking garbage bags; and (3) because it can be poured down the drain instead of hauled off to a landfill.
back to general faqs 
Q. What goes in the food waste bin?
A. All types of food waste can go into the food waste bin. Also, loose bagasse trays and food-soiled paper like napkins, brown paper lunch bags, and paper boats can go in the food waste bin because paper is fiber and therefore compostable. However, all clean paper should be recycled in the paper recycling bin!
back to general faqs 
Q. What goes in the recycling bin with the blue label?
A. All rigid plastics (like disposable cutlery, yogurt cups, and other plastic food containers) and empty milk/juice cartons, bottles, cans, metal, and foil.
back to general faqs
Q. What goes in the trash?
A. Anything that does not go in the liquids bucket, recycling bins, or food waste bin goes in the trash. Examples include straws, beverage pouches, food wrappers, plastic baggies, and foam trays.
back to general faqs
Q.  Where do beverage pouches go?
A.  Unlike milk and juice cartons, beverage pouches are not recyclable. Beverage pouches go in the trash.
back to general faqs
Q. Do lunch trays go in the food waste bin or the trash?
A. This depends on the type of tray your school uses. Foam trays are TRASH (even if it says "compostable" or "biodegradable"). Bagasse trays go in the food waste bin. Paper boats are also fiber-based and should be placed in the food waste bin. If you don't know what type of tray your school uses, your kitchen manager should be able to tell you.
back to general faqs
Q. We used to stack our trays. Why can't we do this anymore?
A. Some schools have been stacking used lunch trays to reduce the volume of trash they produce. Unfortunately, stacked trays cause problems at the processing facility. Bagasse trays should be intermingled with food waste in the food waste bin, and foam trays should go into garbage bins.
back to general faqs
Q. Why is composting at school different from composting at home?
A. You've probably noticed that under the school organics collection program, meat and bones can be placed into the food waste bin. At home using a worm bin or doing backyard composting, usually only "greens" like vegetable scraps and fruit can be composted. The reason we can accept meat is because the food waste being collected at schools is being brought to a large-scale processing facility that has the ability to break down complex food types.
back to general faqs
Q. How do we minimize contamination in the food waste bin?
A. The best way to keep contamination levels down is through education and active bin monitoring. When students and staff are aware of the program and taught how to separate their waste, contamination levels go down. We highly encourage teachers to incorporate the message into their classroom learning. Another effective measure is using a student Green Team to monitor the bins during lunch periods, reminding participants where different materials should be placed.
back to general faqs
Q. What are the most common contamination items in food waste bin?
A. The most common misplaced items include foam trays, milk cartons, bottles, sandwich wrap, chip bags, ketchup packets and plastic fruit cups.
back to general faqs
Q: Where do we get bins?
A: Currently, food waste bins are provided to your school prior to the start of the program. If your school loses a bin or it is stolen, your school is required to file a police report. After submitting the report to DSNY, the bin will be replaced. Recycling bins, however, are the responsibility of each school to procure. The color of the bin does not matter as long as it is labeled with the correct decal (blue for metal, glass, and plastic; green for paper).
back to general faqs
Q. How do I discourage someone from stealing our food waste bins?
A.  First, make sure to retrieve the bin immediately after it is serviced. Store it in a secure location. Additionally, having students paint or decorate the bins is a good theft deterrent. It also gets students involved and gives them a sense of pride and ownership in the program. Just don't forget to keep the decal clear and visible.
back to general faqs
Q. Why was my school chosen or not chosen?
A. As a brand new type of program, we needed to select schools that capture the diverse representation of DOE school programs, buildings, and school grades from pre-K to 12. Additional factors included whether or not they were already involved in compost activities; councilmember support, administrative district; route logistics; and proximity to processing facilities.
back to general faqs

Q. How can my school be part of the program?
A. The plan is to expand this program in phases to all NYC public schools, citywide. If you would like to express your school's particular interest in joining the program, you will make the most impact by recruiting other schools around you and inform your local councilmember. Exceptional interest by a cluster of schools is one of the factors at play in determining the geography of expansion. In the meantime, there are other ways your school can be involved in composting, such as contacting the NYC Compost Project.
back to general faqs
Custodian FAQs
Q. What if there are extra trash bins around the cafeteria that don't belong to a sorting station?
A. The only trash bins that are in the cafeteria should be ones that are part of a sorting station. Please remove any random trash bins floating around the cafeteria.
back to custodian faqs 
Q. What if my bin cracks, leaks, breaks, or goes missing?
A. Report any incidents to the head custodian. If a bin is stolen, a police report must be filed and a copy provided to DSNY. If a bin breaks, do not throw it out. It must be returned to DSNY.
back to custodian faqs 
Q. Should we wash bins?
A. In order to keep the bins clean, please rinse them out as needed.
back to custodian faqs 
Q. Should we pour bleach in the food waste bins?
A. No. Do NOT pour bleach or other chemicals in the food waste bin, it will render the compost unusable. Compost is used to grow food and spread on gardens, and chemicals pose serious health and environmental danger.
back to custodian faqs 
Q. How do I get more posters?
A. Posters are available for download above. Please print them on large, durable paper.
back to custodian faqs 
Q. When should the bins be placed out for collection?
A. Bins must be placed on the curb by 4pm each weekday for nightly collection. Please be sure to secure the lids before placing the bins out on the curb, and make sure to bring the bins in immediately after collection.
back to custodian faqs 
Q. Who do I contact in case of a missed collection?
A. Missed collections are extremely rare. If the food waste bin was set out by 4pm on a weekday and was not emptied overnight please notify your DDF. If the bin was not placed out before 4pm, please wait until the following school day to place the bin out at the curb for collection.
back to custodian faqs 
Q. What about night/weekend events with food/snacks provided?
A. For weekend events, discard food waste with the regular trash. For weekday evening events, food waste can be held over for collection by the food waste truck the next day.
back to custodian faqs 
Q. What about large amounts of fallen leaves or grass from garden trimming?
A.  Small amounts of leaf, grass and yard waste are ok in the food waste bin; large amounts need to be placed in paper lawn & leaf bags or unlined rigid containers.
back to custodian faqs 
Q. Where can I find more information?
A. There is a "Custodian Tips" sheet posted in your school that you can reference. If you have further questions, please contact your head custodian or DDF.
back to custodian faqs 

Kitchen Staff FAQs

Q. Where do we get bags?
A. There is a particular type of bag being used for this program. These bags need to be ordered by your Kitchen Manager along with regular inventory orders.
back to kitchen staff faqs 
Q. Can we consolidate bags from two food waste bins into one?
A. Yes, do not place one bag inside another. Tie each on separately and place one tied bag on top of the other tied bag in the food waste bin.
back to kitchen staff faqs
Q. Where can I find more information?
A. There is a "Kitchen Tips" sheet posted in the kitchen that you can reference. If you have further questions, please contact your Kitchen Manager.
back to kitchen staff faqs
back to top | back to organics collection progarms | back to collections