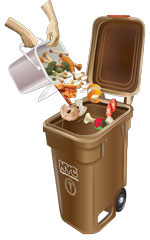 acceptable materials


unacceptable materials
---
All Food
vegetables & fruit • prepared foods • baked goods • cereal • flour & grains • pasta & rice • nuts • eggs & eggshells • dairy products • meat • fish • bones

Food-soiled Paper
paper towels • napkins • paper plates • coffee filters & tea bags • paper lunch sacks • paper food boats and trays

Leaf & Yard Waste
Small amounts of leaf and yard waste are OK to put in the brown bin. Put remainder in paper lawn & leaf bags or unlined rigid containers with the lid off.
lawn & leaf waste • leaves • garden trimmings • grass clippings • yard waste

---
Please do not place the following materials in your organics bin.
NO designated recyclables: no metal, glass, plastics, or cartons
NO liquids
NO trash: no animal waste (kitty litter, poop, carcasses), cigarette butts or ashes, hygiene or medical items (band-aids, feminine products, diapers)
NO plastic: no plastic of any kind: bags, wrappers, fruit & veg stickers, containers, or packaging.
No foam items
No clothing/textiles
No electronics or batteries