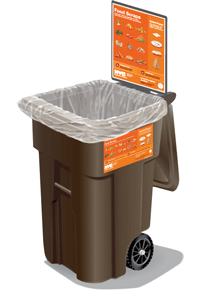 pilot areas


what goes in the organics bin


cafeteria set-up


school responsibilities


educational materials


videos


resource recovery


collection and holiday schedule


more resources
ALSO SEE:


faqs


school materials request form


bin requirements


bag requirements

---
NYC Organics Collection is rolling out service to selected geographic areas in all five boroughs (view the map). By spring 2014, there will be over 300 NYC DOE public schools enrolled in the program throughout Manhattan, Staten Island and Brooklyn. The Bronx and Queens are targeted for expansion starting fall 2014.
For a list of schools that are currently part of the program and schools that are slated to be added to the program, please visit the Organics Collection List of Participating Schools

on the NYC DOE Sustainability Initiative's website.
back to top | back to collections
---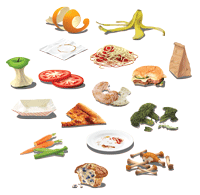 What Goes in the Organics Bin
In addition to the general materials acceptable for organics collection, schools can also place paper boats (used citywide on "Trayless Tuesdays"

) and plant-based compostable trays (if your school uses them) in the organics collection bin. Do not put foam trays in the organics bin; they belong in the trash.
back to top | back to collections
---
The location and number of sorting stations will depend on each school's cafeteria size and layout, student population, lunch period schedule, and student and employee preferences, and generally what works for you.
At a minimum, every cafeteria should have at least one waste sorting station with:
a bucket for excess liquids

a metal/glass/plastic recycling bin

trash bin

food waste bin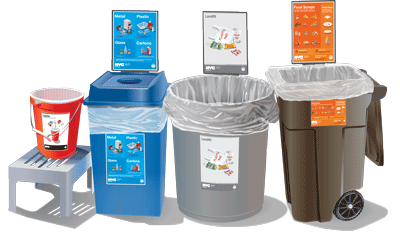 Sorting stations should be set up in the same location every day. The point of consistent bin placement is to build student habits. Each sorting station has a set of posters that should be used to indicate the different bins in the station. We recommend hanging the posters directly above each bin.
back to top | back to collections
---
Principals, custodians, food service staff, sustainability coordinators, teachers, and students all have responsibilities to make sure organics are collected separate from trash and recycling.
Setup and Maintenance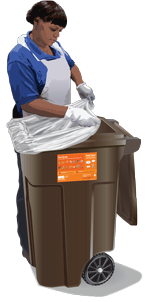 SchoolFood staff is responsible for setting up and maintaining an organics bin in the kitchen, and waste sorting stations in the cafeteria that include a liquids bucket, a metal, glass & plastic recycling bin, an organics collection bin, and a trash can. Each bin should have a designated sign above it.
SchoolFood staff can purchase bin liners through the standard Department of Education procurement process.
Custodians are responsible for washing bins as needed, and cleaning floors, walls and any spills regularly.
Organics Collection
Principals, custodians, food service staff, teachers, and students are expected to dispose of all food scraps, soiled paper (napkins) and compostable trays in the organics bin.
Custodians handle internal collection of organics as well as daily set-out, retrieval, and storage of bins.
Designated recyclables (cardboard & paper and metal, glass & plastic) or trash should never be placed in the same bin or bag with organic waste.
Custodians should place bins on the curb by 4PM every day Monday-Friday.
Collection will occur between 4PM and MIDNIGHT.
Store bins in a secure location.
If a bin has not been serviced by MIDNIGHT, hold the bin over until the following day's collection.
For night and weekend events, hold food waste over until the next collection day, or discard food waste with the regular trash.
back to top | back to collections
---
BWPRR works diligently with DOE and GrowNYC to create education tools and resources to help schools implement organics collection successfully. Please take advantage of these materials in your school. All of the materials are free to order on our school materials request form or download.
NYC Organics Collection Flyer
The NYC Organics Collection program flyer provides general information and procedures about the Organics Collection program.
Posters should be hung above each bin in the cafeteria sorting station to identify what goes in them. There are posters for: the liquids pour bucket, the metal/glass/plastic recycling bin, the trash/landfill bin, and the organics bin. These large (18'x24") laminated posters can be ordered by schools participating in the organics program using the organics school order form. You can also print out samples by clicking on the image below and opening the PDF.
The kitchen tip sheet and the custodial tip sheet summarize action points for kitchen and custodial staff under the food waste collection program. The tips sheets are a good quick reference, and can be displayed in kitchen and custodial areas.
| | |
| --- | --- |
| kitchen tip sheet | custodial tip sheet |
GrowNYC Educational Materials
Visit GrowNYC's website for additional detailed instructional and informational materials, including:
Organics Collection Overview

for faculty, staff and parents
for custodians and SchoolFood

Guide to Organics Collection

cafeteria setup guide
frequently asked questions

Faculty Resources

faculty & staff presentation
faculty & staff handout

Elementary Student Resources

handout with game
presentation
recycling monitors guide

Middle & High School Student Resources

middle school student handout
high school student handout
MS/HS presentation
back to top | back to collections
---
Videos

The NYC Department of Sanitation and Department of Education joined forces to create Step It Up! A video promoting organics collection in NYC schools, featuring LaGuardia High School students and alumni.
Also available on Vimeo
back to top | back to collections
---
Comprehensive Resource Recovery at Schools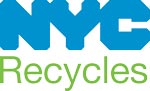 School waste is comprised mostly of paper and cardboard and organics. By adding organics collection to regular paper and cardboard recycling and metal/glass/plastic recycling, schools have the opportunity to divert the vast majority of waste generated (up to 80% by weight)! This responsible resource recovery. To learn more about recycling, visit recycling in schools.
back to top | back to collections
---
Collection and Holiday Schedule
Collection days and times differ depending on material type, so please pay careful attention to your school's collection schedule. The chart below outlines general collection guidelines for schools in the Organics Collection program.
Material Type

Instructions

Collection Day

Organics

Set out by 4 PM
on collection day
in latched organics bins

Monday-Friday

Paper/Cardboard

Set out by 4 PM
on collection day
in clear bags or bundles

Monday-Friday

Metal/Glass/
Plastic/Cartons

Set out after 5PM
on day before
in clear bags

Unique to your building
Look it up
Enter your building address
under "Collection Schedule"

Trash

Set out after 5PM
on day before
in clear bags

Unique to your building
Look it up
Enter your building address
under "Collection Schedule"
For an individualized schedule, please download your school's unique collection schedule (PDF). This flyer shows the collection schedule for each school building in the organics collection program. Look up your school, extract and print the page, and post it in an area easily viewable by custodial staff.
During holiday weeks, DSNY provides alternative service. Please reference the holiday collection schedule (PDF).
back to top | back to collections
---
DOE Sustainability Initiative

DOE has extensive resources about sustainability on the DOE Sustainability Initiative website, coming soon. You will be able to find resources for Sustainability Coordinators, custodian engineers, teachers, students, and more!
GrowNYC

GrowNYC is a hands-on education nonprofit in close partnership with DSNY and NYC DOE. See the GrowNYC

website for resources about the school organics collection program. GrowNYC is also available to help your school conduct outreach and education on organics collection and regular recycling.