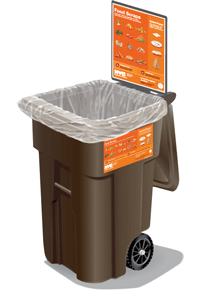 pilot areas


what's collected


cafeteria set-up


school responsibilities


minimizing contamination


recycling


collection and holiday schedule


educational materials (school recycling guide, cafeteria posters, tip sheets)


videos *NEW


DOE and GrowNYC resources


private school enrollment
ALSO SEE:
about organics collection
bins
bags
school materials request form
frequently asked questions
---
The Organics Collection pilot program is operating in selected geographic regions in all five boroughs (view the map). Through a partnership with DOE, public schools are enrolled in pre-determined cohorts, while DSNY recruits individual private schools that meet certain eligibility requirements through an enrollment process.
Public Schools
In the 2012-13 school year, DSNY collected food scraps from kitchens and cafeterias in about 90 public schools in Manhattan, Brooklyn, and Staten Island. During the 2013-14 school year, the program was expanded to include roughly 360 public schools in Manhattan, Brooklyn, and Staten Island. By fall of 2014, organics collection will be in approximately 700 public schools (about 40% of all NYC public schools). See participant lists below.
Private Schools
Currently, a number of private schools in Manhattan and Brooklyn participate in the NYC Organics Collection pilot program. Private schools continue to be added on through the enrollment process.
back to top | back to collections
---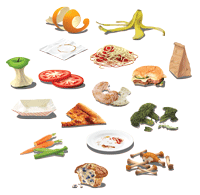 What's Collected
In the Liquids Bucket
All unfinished drinks, like milk, juice and water. The pour bucket allows us to: (1) make sure that beverage containers are empty when placed into the recycling bin; (2) prevent leaking garbage bags; and (3) pour liquids down the drain instead of hauling them off to a landfill.
In the Brown Food Waste Bin
Materials accepted for organics collection include food scraps and food soiled paper.
Paper boats (used citywide on "Trayless Tuesdays") and plant-based compostable trays (if your school uses them) are accepted in the organics collection bin. Foam trays are not accepted in the organics bin (they belong in the trash). If you don't know what type of tray your school uses, your kitchen manager should be able to tell you.
In the Blue-labeled Recycling Bin
All rigid plastics (like disposable cutlery, yogurt cups, and other plastic food containers) and empty milk/juice cartons, bottles, cans, metal, and foil. Learn more about metal, glass, plastic and carton recycling.
In the Trash Bin
Anything that does not go in the liquids bucket, recycling bins, or food waste bin goes in the trash. Examples include foam trays, straws, food wrappers, plastic baggies, and beverage pouches (unlike milk and juice cartons, beverage pouches are not recyclable).
back to top | back to collections
---
At a minimum, every cafeteria should have at least one waste sorting station with:
a bucket for excess liquids

a metal/glass/plastic/carton recycling bin

landfill bin

brown organics bin
Recycling and trash bins can be ordered through the SDI catalog, while brown organics bins will be provided to your school.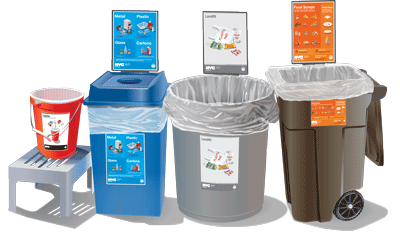 The location, order, and number of sorting stations will depend on each school's cafeteria size and layout, student population, lunch period schedule, and student and employee preferences.
Sorting stations should be set up in the same location and order every day. Consistent bin placement builds consistent student habits. DSNY-provided posters must accompany the bins at the sorting station.
The waste sorting station depicted above is a suggestion and can be altered based on your school's needs.
For more information, watch our training videos.
back to top | back to collections
---
Principals, custodians, food service staff, sustainability coordinators, teachers, and students all have responsibilities to make sure organics, trash, and recycling are collected separately. The following guide reflects the delegation of responsibilities at NYC public schools based on DOE staff setups. Private school roles and responsibilities may differ, however responsibilities should be clearly assigned and necessary training provided. For more information, watch our training videos.
Kitchen and Cafeteria Setup and Maintenance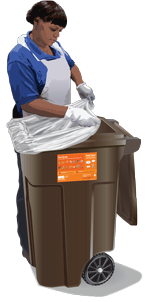 SchoolFood staff is responsible for setting up and maintaining an organics bin in the kitchen, and waste sorting stations in the cafeteria that include a liquids bucket, a metal, glass & plastic recycling bin, an organics collection bin, and a trash can. Each bin should have a designated sign above it.
SchoolFood staff can purchase bin liners through the standard Department of Education procurement process.
Custodians are responsible for washing bins as needed, and cleaning floors, walls and any spills regularly.
Organics Collection
Principals, custodians, food service staff, teachers, and students are expected to dispose of all food scraps, soiled paper (napkins) and compostable trays in the organics bin.
Custodians handle internal collection of organics as well as daily set-out, retrieval, and storage of bins.
Designated recyclables (cardboard & paper and metal, glass & plastic) or trash should never be placed in the same bin or bag with organic waste.
Custodians should place bins on the curb by 4PM every day Monday-Friday.
Collection will occur between 4PM and MIDNIGHT.
Store bins in a secure location.
If a bin has not been serviced by MIDNIGHT, hold the bin over until the following day's collection.
For night and weekend events, hold food waste over until the next collection day, or discard food waste with the regular trash.
For more information, see kitchen and custodial tips sheets.
Recycling in Classrooms and Offices
Recycling in NYC schools is mandated by Chancellor's Regulation A-850 and by Local Law 41. Custodians should locate recycling bins next to every trash bin to ensure students and staff can recycle throughout the building. Bins locations should be maintained every day to develop positive habits.
back to top | back to collections
---
The most commonly misplaced items include foam trays, milk cartons, bottles, sandwich wrap, chip bags, ketchup packets and plastic fruit cups.
The best way to keep contamination levels down is through education and active bin monitoring. When students and staff are knowledgeable about the program and taught how to separate their waste, contamination levels go down. We highly encourage teachers to incorporate the message into their classroom learning. Another effective measure is using a student Green Team to monitor the bins during lunch periods, reminding participants where different materials should be placed.
back to top | back to collections
---
By recycling organics, paper & cardboard, and metal/glass/plastic & cartons, schools have the opportunity to divert up to 90% of waste generated. To learn how to maximize recycling throughout your school, visit recycling in schools.
back to top | back to collections
---
Collection and Holiday Schedule
Beginning Fall 2014, all schools participating in NYC Organics Collection have the following collection schedule. Please pay careful attention because DSNY will not collect material placed out on the wrong days.
Material Type

Instructions

Collection Day

Organics

Set out
by 4 PM
on collection day

in latched organics bins

Mon - Fri

Paper/Cardboard

Set out
by 4 PM
on collection day

in clear bags or bundles

Mon, Wed, Fri

Metal/Glass/
Plastic/Cartons

Set out
by 4 PM
on collection day

in clear bags

Tues, Thurs

Trash

Set out
after 5PM
on day before

in clear bags

According to neighborhood schedule
Look it up
Enter your building address
under "Collection Schedule"
Print Your Schedule
Print and post your school building's 2014-2015 collection schedule (pdf) for easy reference. Note: The pdf contains schedules for all public schools in the program. Please print the one relevant to your school building. The document is organized in order of Building Code.
During holidays and public school closures, DSNY provides alternative service. Please reivew and post the 2014-2015 school year holiday collection schedule (pdf). For service suspension related to inclement weather, please visit 311.
If you have a DSNY service issue, please refer to the Communications Protocol and DSNY District Contact List on the DOE website for instructions on who to contact.
back to top | back to collections
---
BWPRR works diligently with DOE and GrowNYC to create educational tools and resources to help schools implement organics collection successfully. Please take advantage of these materials in your school. All of the materials are free for public and private schools and can be ordered using the school materials request form or downloaded below.
NYC School Recycling Guide
Follow this comprehensive school recycling staff guide (pdf) to successfully set up your school for recycling.
Posters must accompany each bin in the cafeteria waste sorting station to identify what goes in them. There are posters for: the liquids pour bucket, the metal/glass/plastic & carton recycling bin, the trash/landfill bin, and the organics bin. These large 18'x24" laminated posters can be ordered by schools participating in the organics program using the school materials request form.
The kitchen tip sheet and the custodial tip sheet summarize action points for kitchen and custodial staff. The tips sheets serve as a quick reference and should be displayed in kitchen and custodial areas.
| | |
| --- | --- |
| kitchen tip sheet | custodial tip sheet |
GrowNYC Educational Materials
Visit GrowNYC's website for additional detailed instructional and informational materials.
back to top | back to collections
---
DSNY Training Videos
DSNY's series of School Organics & Recycling Training videos explain how to setup school recycling programs, including organics collection:
Module I: Cafeteria Setup for Organics & Recycling
Module II: Cafeteria & Kitchen Collection of Organics & Recycling
Module III: Custodian Setup & Internal Collection of Recycling & Trash
Module IV: Curbside Setout of Recycling & Trash
Student Videos
P.S. 316 BK Instructional Video
"Goin Green" Step It Up! 2013
back to top | back to collections
---
DOE Sustainability Initiative

Find extensive resources on the NYC DOE Sustainability Initiative website for Sustainability Coordinators, custodian engineers, teachers, students, and more!
GrowNYC

GrowNYC is a hands-on education nonprofit in close partnership with DSNY and NYC DOE. Visit GrowNYC for resources on the school organics collection program, and more. GrowNYC is also available to help your school conduct outreach and education on organics collection and recycling.
back to top | back to collections
---
Private schools may be eligible for the NYC Organics Collection program if the school meets all four of the following criteria:
The school is in a current organics collection pilot area

The school currently receives DSNY collection of refuse and recycling

The school is not-for-profit

The school does not utilize a private food service vendor
If you have determined that your school fulfills these criteria, or if you are not sure if you qualify, please express your interest for participating in NYC Organics Collection using the inquiry form.