The NYC Department of Sanitation collects yard waste, food scraps, and food-soiled paper every week from pilot area homes. Residents who participate in the organics collection program are helping NYC create valuable compost and send less waste to land­fills!
NYC Organics Collection is rolling out to selected geographic areas in all five boroughs. The pilot began in May 2013 in a section of Staten Island, and additional pilot areas are rolling out in September and October 2013 in the Bronx, Brooklyn and Staten Island.
back to top | back to collections
---
What Goes in the Organics Bin?
In addition to the general materials acceptable for organics collection, participating residents can also place certified-compostable liners in the organics bins. Certified-compostable liners are made of plant-based materials that break down in our composting process.
back to top | back to collections
---
How to Participate in the Program
Starter kits are delivered to participating households. The kit includes a brown organics bin and a small kitchen container with a starter supply of DSNY-approved compostable liners.
Participating households can follow these steps: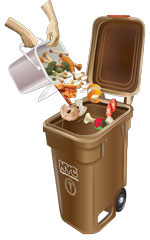 1. Collect organic waste separately from trash.
Gather household food scraps, soiled paper, and plants.
Place in the brown bin.
Collect leaf and yard waste in paper lawn & leaf bags or unlined rigid containers.
Paper lawn & leaf bags and compostable liners are available online or at local supermarkets and home improvement stores.
2. Place organics at the curb on recycling day.
Each week on recycling day, residents in the pilot area should place brown bins and any leaf and yard waste at the curb by 6:00 a.m.
If the designated organics collection day falls on a holiday, residents should set out organics after 4:00 p.m. on that holiday for collection beginning the next day.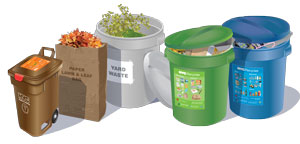 3. Sanitation collects the organic waste and delivers it to a local or regional facility for processing.
Each brown bin contains a radio frequency identi­fication tag that DSNY
will be able to scan to evaluate participation rates and help DSNY understand
the success and popularity of the program in the community.
back to top | back to collections
---
Participants do not need to line the kitchen container or organics bin. However, if you want to line the containers, you can use newspaper, paper bags, or cardboard. Participants can also use DSNY-approved compostable liners, which can be composted with food scraps.
Plastic and "biodegradable" bags are not accepted. They do not break down, contaminating the compost and affecting its quality, value, and potential uses.
If you use a plastic grocery bag to line your kitchen collector, you must discard the plastic bag in the trash after emptying the food into the curbside organics bin.
Paper Lawn & Leaf Bags
Yard waste including leaves, grass and garden clippings should be set out in the organics bin, in an unlined rigid container, or in paper lawn & leaf bags. Yard waste set out in plastic bags will be collected as trash!
Lawn & leaf bags can be purchased online or at participating local retailers including home improvement and hardware stores
back to top | back to collections
---
More Tips for Managing Organic Waste
Managing Food Scraps
Maintaining Your Organics Bin
Add layers of newspaper, leaves or brush along with food scraps to absorb moisture and cut down on odors.
Rinse out brown bin and kitchen container regularly.
Line the outer rim of the bin with salt or vinegar to repel flies, or sprinkle rock salt or garden lime inside the brown bin.
Flies are also repeled by herbs such as camphor, eucalyptus, mint, or bay leaves. Hang bruised leaves inside the bin or apply drops of herbal oil to the outside of the bin.
Sprinkle baking soda in the container and bin to reduce odors.
Store brown bin in a shaded, ventilated area and keep lid latched.
To prevent material from sticking or freezing to the bottom of the bin, line the bottom with newspaper or cardboard.
back to top | back to collections
---
DSNY's efforts to inform residents about the Organics Collection and the pilot include the following: