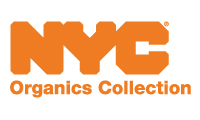 New Yorkers can now send even less waste to land­fills! The NYC Department of Sanitation collects yard waste, food scraps, and food-soiled paper every week from pilot area homes. Residents outside the pilot areas can still compost their food waste at a neighborhood based food waste drop-off site.


pilot areas — SPRING 2014 update


what goes in the organics bin?


how to participate


more tips


bags, liners, and compostable plastics


why should I participate?


dsny promotion

ALSO SEE:
FAQs
about the pilot
neighborhood-based food waste drop-off sites
---
How to Participate in Organics Collection
Starter kits are delivered to households in pilot areas. The kit includes a brown organics bin and a small kitchen container, along with detailed program information.
Participating residents can follow these steps:
1. Separate organic waste from your trash and other recyclables.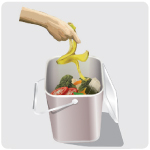 Collect your food scraps and food-soiled paper in your kitchen container, or in any container or bag.
Store your container or bag in a convenient place, like on the countertop, under the sink, or in the freezer.
If you want, line your container with a compostable bag or newspaper for easy clean-up.
2. Empty organic waste into your brown bin.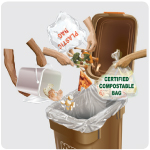 There are different options to line your outdoor bin:
Reduce waste by not using a liner or bag. The bin is specifically made to hold organic waste.
Use a certified-compostable bag or a paper grocery bag.
Use a clear plastic recycling bag (shown).
Compostable bags and paper bags can go directly into the brown bin. If you use a regular plastic shopping bag to collect food scraps, empty the contents into the brown bin, and then throw away the bag.
3. Set out brown bin and yard waste at the curb every week on your recycling day.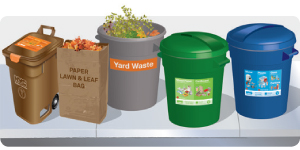 Set out yard waste in any of the following:
All waste set out in black bags will be collected as trash.
Holidays: If your organics day falls on a holiday, set out your organic waste after 4:00 p.m. ON THAT holiday. Sanitation will resume collections beginning early the next morning. All other recyclables will be collected the following week on your regular recycling day.
Each brown bin contains a radio frequency identi­fication tag that DSNY will be able to scan to evaluate participation rates and help DSNY understand the success and popularity of the program in the community.
back to top | back to collections
---
More Tips for Managing Organic Waste
Managing Food Scraps
Use the kitchen container to collect food scraps and empty regularly into the brown bin. Rinse it regularly - it's also dishwasher-safe!
Wrap meat and seafood scraps and wet organic materials in newspaper or paper towels.
Clean out the refrigerator the day before collection, rather than the day after.
Maintaining Your Organics Bin
Add layers of newspaper, leaves or brush along with food scraps to absorb moisture and cut down on odors.
Rinse out brown bin regularly.
Line the outer rim of the bin with salt or vinegar to repel flies, or sprinkle rock salt or garden lime inside the brown bin.
Flies are also repeled by herbs such as camphor, eucalyptus, mint, or bay leaves. Hang bruised leaves inside the bin or apply drops of herbal oil to the outside of the bin.
Sprinkle baking soda in the container and bin to reduce odors.
Store brown bin in a shaded, ventilated area and keep lid latched.
To prevent material from sticking or freezing to the bottom of the bin, line the bottom with newspaper or cardboard or a clear plastic recycling bag.
back to top | back to collections
---
Bags, Liners and Compostable Plastics
There are several options for those who choose to line their indoor or outdoor bins: paper bags, compostable plastic liners, or clear plastic liners (for outdoor bin only).
Plastic shopping bags and "biodegradable" plastics do not belong in the bin. If you use a regular plastic shopping bag to collect food scraps, empty the contents into the brown bin, and then throw away the bag.
Regular plastics do not break down and are difficult to remove during processing, thereby affecting the quality and potential uses of the end products (compost and renewable energy). Clear plastic liners are not preferred by processors, but they are tolerated as a means to receive more material.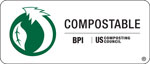 Compostable bags used in NYC Organics Collection are required to be certified by the Biodegradable Plastics Institute - United States Composting Council (BPI-USCC). Most major brands carry this certification, and have this logo stamped on the box.
Certified-compostable plastic bags can be found at local retail stores

in and around the pilot areas.


We regularly update an online map of these stores

. You can also download a list of stores [pdf] with contact information. Please contact us if you know of retailers that should be added to this list.
Online Retailers
Some online retailers include:
Wholesalers
Wholesalers sometimes sell to small apartment buildings and the general public. We encourage wholesalers who are not on this list to carry certified-compostable bags, and to contact us to be added to this list.
Some wholesalers who currently carry certified-compostable bags include:
Manufacturers
The following manufacturer brands meet the requirements for use in NYC's organics collection pilot. Some of these manufacturers offer discounts to large buildings or groups during the pilot. Interested buildings should contact us for a list of current discounts.
Other manufacturers that meet these requirements include Bio-Tuf

, If You Care

, and Natur-Bag

.
back to top | back to compost products and services
---
Organic waste accounts for almost 30% of all refuse generated in New York City. This includes yard waste, food scraps, compostable paper (napkins, paper plates, etc.), and other materials suitable for industrial-scale composting. Operating an organics collection program can help NYC reduce millions of dollars in landfill disposal costs, achieve our recycling goals, and reduce pests by storing food waste in special rodent-resistant bins. NYC will turn your organic waste into renewable energy or compost, which can be used to fertilize gardens, parks, and street trees.
back to top | back to collections
---
DSNY's efforts to inform residents about the Organics Collection and the pilot include the following: