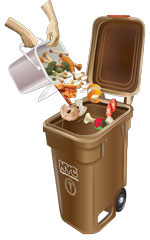 Morningside Gardens was the second high-rise building in New York City to join DSNY's Organics Collection program.

building overview


building set up and operations


outreach and education
---
The Morningside Heights Housing Corporation (MHHC), better known as "Morningside Gardens," is a residential cooperative apartment complex that houses 980 individual units on the Upper West Side of Manhattan. The six, high-rise buildings are located south of Lasalle Street in between Broadway and Amsterdam Avenue.
back to top | back to collections
---
Building Set Up and Operations
MHHC Management preferred a centralized collection model for the organics, requiring residents to self-haul their organics to a single collection point on the complex rather than via decentralized collection points on every floor of each building. This was a two-factor decision for MHHC Management:
To reduce up-front expenses in the form of purchasing additional receptacles for each floor and the additional maintenance labor in servicing floor-by-floor collection
To alleviate residents concerns with odors and the organic material serving as a possible indoor pest attractant
This was a different approach than the decentralized model MHHC employs for collection of all other recyclables and refuse. For those materials, each floor has a recycling room for residents to dispose of paper and MGP recycling in designated bins, adjacent to which is a chute for disposal of refuse.
Every morning, a MHHC maintenance worker visits the organics collection area to ensure that each collection bin contains a plastic liner, enabling residents to deposit their material. This is a minimal labor investment for MHHC when compared to maintenance's collections of other recyclables and refuse prior to transport to 30 cuYd containers for DSNY collection.
Morningside Gardens typically fills three 32-gallon receptacles per day, totaling approximately 200 lbs. On Mondays, nine 32-gallon receptacles are filled to accommodate the increase from the organic material that is not collected on Saturdays or Sundays.
back to top | back to collections
---
Introductory Program Description and Resident Survey
All 980 units received a printed notice about the program, including a brief paper-and-pencil survey to assess each resident's interest in participating. The notice briefly described the program concept, how the program would work from the perspective of the resident, and provided GrowNYC contact info for residents with additional questions.
The survey was distributed and collected by a group of resident volunteers with analysis and reporting managed by GrowNYC's Office of Recycling Outreach and Education.
MHHC Staff Training
MHHC Management internally handled all aspects of staff training once the necessary requirements for collections service were established by DSNY. Training focused on ensuring the collection area was tidy for residents, bin liners were regularly in place and that bins were replaced or repaired as necessary.
Resident Training
The residents of Morningside Gardens were not only active in lobbying fellow residents and the MHHC Board to pilot the organics program, but they also served a central role in the outreach and education process.
In the spirit of "train the trainer," GrowNYC's Office of Recycling Outreach and Education conducted several meetings with leading organizers of the resident-created, Morningside Gardens Compost Club. These meetings taught basic details of general organics diversion, how the program would work at Morningside Gardens, and finalized the schedule for resident-driven, in-building outreach.
Resident Communications
Morningside Gardens utilizes its website, building common areas and a printed newsletter for sending out notifications, news, and alerts to residents about co-op matters, including programs like Organics Collection.
Residents were invited to attend a series of public meetings to review program literature and presentations, with GrowNYC staff in attendance to answer questions about the program. These meetings were supplemented by lobby outreach in all 6 buildings, coordinated by aforementioned resident volunteers, which served as a venue for answering FAQs, obtaining literature and facilitating informal discussion between residents.
In addition to the availability of MHHC management via office hours and the co-op website, volunteer residents took it upon themselves to develop an extensive education website

. This served as an unofficial tool for residents to reference for information about program participation, the calendar of informational public meetings and bin distribution schedule prior to the start of collections, answers to common FAQs and an online feedback form.
Signage and Literature
All residents were provided with mailers detailing the program and listing when informational meetings were occurring.
All residents interested in participating received a complimentary SureClose brand, in-kitchen collection container for storage of organics within the home, which was distributed with a more detailed brochure detailing the program, and both a smaller 5" x 7" decal for the SureClose container and an 8.5" x 11" poster displaying what materials can and cannot go in the organics bins.
Additionally, every curbside collection bin is labeled with a 5" x 7" decal and every trash room has an 8.5" x 11" poster serving as a reminder that the organics collection area is separate from other recycling and refuse collections.
back to top | back to collections