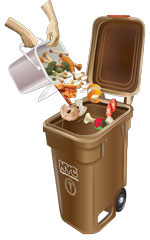 Apartment buildings in NYC with 10 or more residential units can enroll to participate in a new program that provides free and convenient collection of organic waste, including food scraps, soiled paper, and yard waste. Residents who live in smaller units can still compost their food waste at a neighborhood based food waste drop-off site.



submit your request


develop a plan


educational materials for tenants and staff


case studies
ALSO SEE:
what goes in the organics bin
pilot areas
bin requirements
bag requirements
back to top | back to collections
---
Fill out the online inquiry form to apply for organics collection at your building or contact us with questions (in the Message section, indicate the Organics Collection Program).
After submitting the online inquiry form, your building will be added to a list of interested buildings. DSNY will be in touch once your form is processed to discuss next steps.
NOTE: Buildings located in the existing pilot areas will receive first priority. Even if you are not in an existing pilot area, we want to hear from you. The demand for organics collection services by buildings in other areas of the city will be taken to account as we expand to new neighborhoods.
back to top | back to collections
---
DSNY will ask you to submit a cohesive building-wide plan that:
identifies building management leadership committed to provide and maintain resources & equipment for organics collection, to motivate & educate residents to participate, and to maintain communications with DSNY,
outlines how you will set up your building for organics collection,
describes how you will recruit, motivate and educate residents, and
designates who will be responsible to monitor and maintain the program over time
DSNY will conduct a site visit to help you to plan.
back to top | back to collections
---
Educational Materials for Tenants and Staff
Sample tenant and staff education materials have been developed to help you get important program information out to your tenants and staff. Please feel free to download and print the tenant and staff fliers below.
Tenant Info Sheet
(double-sided)

Staff Program Guide

back to top | back to collections
---
Case Studies
For reference, take a look at what our first two high-rise residential buildings did to set up their progams, and how they continue to monitor success.