Bag or liner usage is not required for this program; in fact we encourage you to dispose of organic material directly into your organics collection bin. However, bags and liners can help keep your collection container clean and increase participation.

acceptable bags and liners


non-acceptable bags and liners


where to buy compostable bags
ALSO SEE:
bin requirements
organics collection and drop-off programs
---
FOR OUTDOOR BROWN BINS:
If you choose to line your brown bin, you may use: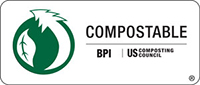 a certified compostable plastic bag that bears the BPI-USCC logo
newspaper
a brown paper bag
a CLEAR plastic recycling bag (least preferred option since plastic is not compostable)
Find out where to purchase compostable bags that meet BPI-USCC requirements. Compostable bags come in many sizes. Purchase compostable bags at least 24" x 32" for 13-gallon bins and 28" x 45" for 21-gallon bins. Note: number of gallons is not always a good indicator if the bags will fit; please use dimensions.
City agencies should order bags through their normal procurement mechanisms.
Public schools should use clear plastic bags for all waste streams - organics, recycling and trash (bags for your brown organics bin can be obtained through your school's Kitchen Manager).
FOR RESIDENTIAL KITCHEN CONTAINERS:
Many people do not line their counter-top containers. You may, however, use:
FOR EXTRA YARD WASTE:
Place any yard waste that doesn't fit in the brown bin with the lid closed in:
a rigid container labeled "YARD WASTE"
paper lawn & leaf bags
tied bundles
CLEAR plastic recycling bags
back to top | back to collections
---
Non-Acceptable Bags and Liners
Plastic shopping bags do not belong in the bin. If you use a plastic shopping bag to collect food scraps, empty the contents into the brown bin, and then throw away the bag.

Plastic recycling bags that are not clear (no black garbage bags; tinted certified compostable bags are OK).
back to top | back to collections
---
Compostable bags used in NYC Organics Collection are required to be certified by the Biodegradable Products Institute - United States Composting Council (BPI-USCC). Most major brands carry this certification, and have this logo stamped on the box.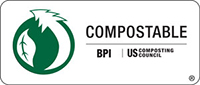 Certified-compostable plastic bags can be found at local retail stores

in and around the pilot areas.
We've added new stores in Brooklyn! Click the PDF or map below.


We regularly update an online map of these stores

. You can also download a list of stores [pdf] with contact information. Please contact us if you know of retailers that should be added to this list.
Online Retailers
Some online retailers include:
Wholesalers
Wholesalers sometimes sell to small apartment buildings and the general public. We encourage wholesalers who are not on this list to carry certified-compostable bags, and to contact us to be added to this list.
Some wholesalers who currently carry certified-compostable bags include:
Manufacturers
The following brands meet the requirements for use in NYC's organics collection pilot. Some of these manufacturers offer discounts to large buildings or groups during the pilot. Interested buildings should contact us for a list of current discounts.
Other manufacturers that meet these requirements include Bio-Tuf

, If You Care

, and Natur-Bag

.