Bag or liner usage is not required for this program; in fact we encourage you to dispose of organic material directly into your organics collection bin. However, bags and liners can help keep your collection container clean and increase participation.
Depending on whether you are a public school, large or small residence, agency, non-profit, or religious institution, your bag requirements may differ:

bag requirements for small and large residences, private schools, and institutions


bag requirements for city agencies and DOE public schools
ALSO SEE:
where to purchase DSNY-approved compostable bags
bin requirements
back to top | back to collections
---
Bag Requirements for Small and Large Residences, Private Schools, and Institutions
If you choose to line your bin, first consider using a paper bag, newspaper, leaves, or cardboard. If these are not viable options, you may use DSNY-approved compostable liners (they are tolerated but not preferred at processing facilities). Regular plastic bags are not accepted - they do not break down and they contaminate the compost, affecting its quality, value, and potential uses.
DSNY-approved compostable liners must:
Be tinted green, and
Bear the certified Biodegradable Products Institute - United States Composting Council (BPI-USCC) COMPOSTABLE logo: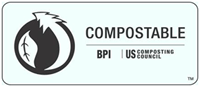 NOTE: Bags without this logo, are not accepted in the program - even if they're labeled "biodegradable." Grocery stores and supermarkets often provide green-tinted plastic bags in the produce aisle. These are not usually compostable, as they are often made from regular plastic (and are sometimes labeled biodegradable). If the certified BPI-USCC COMPOSTABLE logo is not printed on the bag, do not place it in the brown bin. If you use a regular plastic grocery bag to line your kitchen collector, you must discard the plastic bag in the trash after emptying the food into the curbside organics bin.
Find out where to purchase DSNY-approved compostable bags.
back to top | back to collections
---
Bag Requirements for City Agencies and NYC Public Schools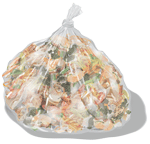 Due to the time it takes to adjust the City's procurement process, NYC agencies and Department of Education (DOE) public schools are currently permitted to use regular clear plastic bags to line their organics bins until they are able to make the switch to a DSNY-approved alternative. City agencies should order bags through their normal procurement mechanisms. Public schools can obtain pre-approved bags through their Kitchen Manager.