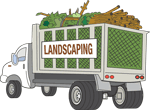 According to Local Law 40, yard waste generated by landscapers cannot be set out for Department of Sanitation collection nor dispersed in or around the curb or street.
Landscapers must collect and dispose of any yard waste that they generate at a permitted composting facility.
Exception:
If the DSNY Commissioner gives written notice that there isn't sufficient capacity at permitted composting facilities within NYC (or within 10 miles of the borough where yard waste was generated), landscapers may dispose of yard waste at any permitted solid waste facility.
Fines for lack of compliance:
$250 for the first violation
$1,000 for the second violation within a twelve-month period after the first violation
$2,500 for the third or subsequent violation within a twelve-month period after the first violation
Landscapers are also responsible for disposing of wood from trees within Asian Longhorned Beetle (ALB) quarantine zones at designated disposal locations. To find out more about the landscaper rules and regulations for disposing of wood from ALB quarantine zones, contact the New York State Department of Agriculture & Markets at 631-288-1751.

ALSO SEE:
info for landscapers
fall leaf collection

back to top l back to collections