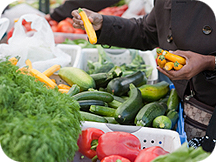 Photo by Samuel-Cristophe Tedjasukmana, Courtsey of GrowNYC
Farmers markets, Green Carts, supermarkets, public markets and healthy bodegas – all of these provide healthful options for shoppers. Expanded retail access to healthy and affordable food retailers can help more New Yorkers to make healthy choices when shopping for food.

Farmers' Markets
Looking to buy local? Farmers markets offer some of the freshest, most nutritious locally grown products in the region. There are more than 130 farmers markets in New York City, over 120 of which now accept the Electronic Benefits Transfer (EBT) Card.
Health Bucks, worth $2 each, can be used to purchase fresh fruits and vegetables at all farmers markets. If you use food stamps, you will receive a Health Buck for every $5 you spend at the farmers market.
Visit Health Bucks to find out where to find and use them
Download the map and list of all farmers markets in NYC
Watch the Public Service Announcement on NYC's farmers' market programs
Want more out of your fruits and vegetables while shopping at a farmers market?
The City's Stellar Farmers' Market program provides free nutrition education workshops and cooking lessons at select farmers markets throughout NYC. Enjoy free samples, and if you stay for a whole workshop, you will receive a free Health Buck!
Learn about Stellar Farmers' Markets
Interested in starting a farmers' market in New York City? This document provides an overview of the necessary steps as well as suggested considerations and resources for starting a farmers' market on municipal land. Steps include obtaining a permit, sorting out transportation logistics, and incorporating healthy food access programs.
Download the Overview of Starting a Farmers' Market in NYC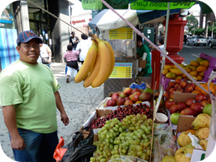 Green Carts
Green Carts are mobile food carts that offer fresh produce in certain New York City neighborhoods. Since the program's start in 2008, nearly 500 vendors have opened Green Carts in City neighborhoods, helping many New Yorkers buy fresh fruits and vegetables closer to home. With the support of the Mayor's Obesity Task Force and other partners, currently more than 90 of these Green Carts have EBT machines to accept SNAP benefits.This initiative is also supported by a $1.5 million grant from the Laurie M. Tisch Illumination Fund.
Learn more about Green Carts
Download a map of the Green Cart areas
Download the free NYC Green Carts cookbook, featuring great recipes from celebrity chefs
Shop Healthy
You can also find healthy options at many corner shops throughout the City. Since January 2005, the Healthy Bodegas initiative, now renamed Shop Healthy, has worked with more than 1,000 shops in East and Central Harlem, the South Bronx, and Central Brooklyn to promote healthy foods such as fresh fruits and vegetables, whole grain bread, low-fat milk and dairy products, and low-salt and no-sugar-added canned goods.
In June 2013, Shop Healthy NYC expanded its work to three new South Bronx neighborhoods – Hunts Point, Mott Haven and Longwood.
Learn about Shop Healthy
Shop Healthy Expansion Press Release

Public Markets
Public markets are a great place to buy fresh and unique food. In the 1930s, the City streets were overflowing with push-cart vendors. There were so many, that in an effort to ease congestion, Mayor Fiorello LaGuardia established several neighborhood public markets: Essex Street, Moore Street, La Marqueta, and the Arthur Avenue Market - each with its own local flavor and a wide variety of items. Today the markets are thriving and more inviting than ever. So visit and enjoy.
Learn about public markets
Learn about the Moore Street Market
Learn about the La Marqueta Market
Learn about the Arthur Avenue Market

Supermarkets
Supermarkets provide a great variety of fresh foods as well as staples. New York City is working to support increased and improved supermarket retail outlets in currently underserved neighborhoods. Our FRESH program promotes supermarket development in certain neighborhoods with tax and zoning incentives, and the NYC Health Department also works with select stores throughout the City to ensure that community residents have access to delicious and affordable fresh fruits and vegetables through their Shop Healthy program. To date, FRESH are expected to provide about 578,000 square feet of new or renovated space, are estimated to retain more than 500 jobs and create over 945 new jobs, and represent an investment of approximately $80 million across the City.
Learn more about FRESH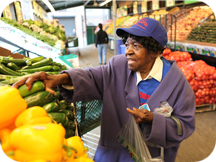 Healthy Shopping for Seniors
MarketRide provides senior citizens with transportation from participating City Senior Centers to nearby supermarkets and farmers markets.