New York City is committed to helping families make sure that kids get a healthy start. Good nutrition is a building block for a child's well-being and will help them to grow, learn, and play to their fullest potential.
Food in Our Schools
The Office of School Food
The Department of Education's Office of SchoolFood promotes healthy food choices for our students and maintains high nutritional standards while offering delicious, healthy, and satisfying menu options to reach this goal.
Learn more about SchoolFood
Enroll in School Meals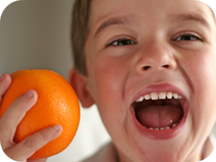 Many students are eligible for free or reduced-price meals. A school meals enrollment form must be submitted for every student (whether or not the family believes it is eligible for free or reduced meals). Parents and guardians can return completed paper applications to their child's school, or they can apply online.
Apply via nyc.applyforlunch.com
Apply via nyc.gov/accessnyc
Healthy Learning For Kids
NYC School Gardens Initiative
School gardens help kids to connect to the environment, change their eating habits, be more active, and find new ways to learn. Grow to Learn is New York City's city-wide school gardens initiative, founded by GrowNYC, the Mayor's Fund to Advance New York City, and several government agency partners. This public-private partnership provides support, technical assistance, and mini-grants to City school gardens, while working to facilitate communication and collaboration between stakeholders. Grow to Learn strives to make it possible for all New York City public school students to have the chance to learn and grow through a school garden.There are now more than 345 schools registered with Grow to Learn.
Learn more about the Grow to Learn program
Watch a video about this initiative
Garden to School Café
This program connects school gardening and school lunch through seasonal harvest events and educational activities, and recently expanded to more than 60 New York City Schools with the generous support of the Rachael Ray Yum-O! Foundation. Garden to School Café is a collaboration of NYC Department of Education SchoolFood, NYS Department of Agriculture & Markets, and NYC Department of Parks, GreenThumb.
Learn more about Garden to School Café
Salad Bars and Water Jets in Schools
To help provide healthy options for students, SchoolFood has installed over 1,000 salad bars in City schools. In addition, the Mayor's Obesity Task Force recommended the expansion of DOE's water jets program, which makes cold, fresh tap water easily available to students. To date, DOE has installed over 800 water jets in the City's school cafeterias.
School Wellness Programs
How can our public schools encourage healthy lifestyles? New York City public schools offer a wide range of wellness programs and DOE's Wellness Policy is part of a larger commitment to raising student achievement levels and combating the childhood obesity epidemic.DOE has expanded their School Wellness Council grant programs and awarded 125 schools/sites a $2,500 School Wellness Council grant in 2013, an increase from 50 schools per year in 2012.
Learn more about the Department of Education's School Wellness Programs
CookShop
The CookShop program provides hands-on exploration and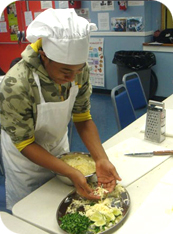 cooking activities in afterschool programs to foster children's enjoyment of healthy food. CookShop is a program of the Food Bank of New York City, run with the support and partnership of the Human Resources Administration.
Learn more about CookShop
Youth and Cooking Nutrition Programs
How can we get kids excited about healthy food? The City has established partnerships between the Department of Youth and Community Development (DYCD), New York City Housing Authority (NYCHA) and selected non-profits, the Sylvia Center and Children's Aid Society to provide cooking classes. The programs empower young people to develop knowledge of and love for cooking, become conscious consumers, and make healthy food choices. Classes are held at after school sites and include both hands-on cooking, nutrition discussion, and fun field trips to local grocery stores or farmers markets.
Learn more about Youth and Cooking Nutrition Programs
Learn It, Eat It, Grow It
Learn it, Grow it, Eat It is a hands-on education program created and run by GrowNYC which empowers teens to take control of their health and to help others do so through hands-on gardening, nutrition education, outreach, and managing a community farm-stand. The program is aimed at improving the health of young people through nutrition education and improved food access in their schools and community.
Learn more about the Learn It, Eat It, Grow it Program
What else can parents do and caregivers do?
Learn more about how to help your child reach a healthy weight.
Read "Helping Children Reach a Healthy Weight"
Learn more about making healthy choices for you and your family