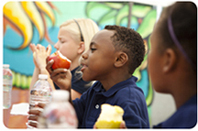 New York City is the food capital of the world - known for its variety of ethnic cuisines, great restaurants, and the ability to find any kind of food at any hour of the day. Given the vast array of food choices, it is important for New Yorkers to make healthy and informed decisions. For years, New York City has been a leader in implementing policies like calorie labeling and banning trans-fat, in order to help make healthful eating easier for everyone. These efforts are part of a broader food policy, aimed at promoting healthy food, promoting food security, and improving the sustainability of our food system.
Mayor's Obesity Task Force
As a result of New York City's healthy eating and retail access initiatives, we are beginning to see better eating habits among New Yorkers. But there is much more to do, and serious challenges persist. For example:
58% of adults in NYC are overweight or obese.
40% of elementary school students in NYC are overweight or obese.
Our poorest communities remain disproportionately burdened by diet related diseases.
In response, the Mayor's Obesity Task Force was convened in January 2012 to combat the growing epidemic. Obesity is the leading cause of preventable deaths in NYC—second only to tobacco—and it kills more than 5,000 New York City residents per year. The Task Force's final report, Reversing the Epidemic: The New York City Obesity Task Force Plan to Prevent and Control Obesity, describes the group's findings and recommendations within the following categories: preventing obesity in children; encouraging healthy eating; promoting physical activity; and leading by example. To learn more about the launch of food-related initiatives in Mayor's Obesity Task Force, read the following press releases:
Mayor's Obesity Task Force Report Press Release
NYC Water On-The-Go Expansion
Health Bucks Expansion Press Release
Shop Healthy NYC Launch Press Release
Salad Bars Expansion Press Release
Gardens for Healthy Communities Press Release
NYCHA Urban Farm Press Release
For an update on all Mayor's Obesity Task Force initiatives, please read the Interim Progress Report.