Why: Some families and individuals also need help getting nourishing meals on the table.  New York City is committed to assisting low-income individuals and families afford nutritious and healthy food.

How: We administer multiple programs for those who need financial help getting nourishing meals on the table, and also encourage more grocery stores and fresh food retail in their neighborhoods. The City works to ensure that New Yorkers are aware of the programs available to them and promotes program participation.
Food Stamps
Under the Bloomberg administration, New York City's Human Resources Administration (HRA) has made access to food stamps easier through a variety of initiatives including streamlining the application process, improvements in technology, and continued outreach. One important change to access has been the income resource test waiver that has allowed families to be eligible for food stamps at 130% the poverty rate, and for seniors, 200% the poverty rate. Other changes include: the recertification timeline has increased from 6 to 12 months, more than 60 community-based organizations now assist with the application process, and an interactive telephone system to recertify have all been put into place, lifting the burden on working adults to come into the office more often than necessary.
Apply online for food stamps or find your nearest food stamp office 
Health Bucks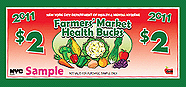 The Health Bucks program, which dates back to 2005, helps food stamp recipients purchase healthy food at farmers markets by providing a $2 coupon for fruits and vegetables for every $5 dollars in food stamp benefits spent at the market.
Learn about Health Bucks
 Download Farmers' Market Programs (in PDF)
Emergency Food
The Emergency Food Assistance Program (EFAP) helps to provide food to more than 500 emergency food pantries across New York City. EFAP is a municipally funded emergency food program, and all the food the City purchases for pantries is in compliance with our City-wide nutrition standards (in PDF). Visit the Human Resource Administration's (HRA) website or call 311 to locate the EFAP pantry nearest you.
Visit HRA's website

School Meals
Healthy meals are essential for kids' well being. In New York City public schools, breakfast is served in school cafeterias prior to the start of the school day to any student, at no cost. A nutritious meal is also served at all schools for $1.50 per meal, or free or reduced price for families that qualify. Most of our students qualify for free or reduced price lunches.
The Department of Education encourages all eligible students to enroll for free or reduced-price meals. Parents and guardians can return completed paper applications to their child's school, or they can apply online.
Apply online now

In the summer time, when many families are struggling most, the Department of Education runs the largest summer meals program in the nation. SchoolFood serves free meals to all children 18 years of age and younger at sites throughout the City. For information on your closest summer meals site, call 311.