Improving Healthy Food Access & Awareness

WHY: The neighborhoods that have the lowest access to healthy foods are also those that have the highest rates of obesity and diet-related disease and lowest rates of fruit and vegetable consumption.

In 2008, the Going to Market Study was conducted for the Mayor's Food Policy Task Force by the New York City Departments of Health and City Planning and the New York City Economic Development Corporation. It found that more than 3,000,000 New Yorkers lived in neighborhoods that were underserved by grocery stores and other fresh food retail.
Learn about the Going to Market Study

HOW: New York City has employed multiple strategies aimed at addressing these disparities and improving our overall food environment, including: improving healthy retail access, promoting a healthy diet, nutrition education, and healthy food procurement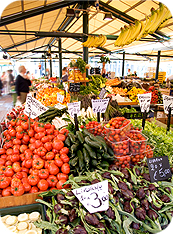 and vending.
Improving Healthy Retail Access
New York City has implemented programs across all areas of food retail to increase access to fresh fruits and vegetables in underserved neighborhoods. Example programs:
Promoting a Healthy Diet
In addition, New York City has pioneered a number of health initiatives, such as the trans-fats regulation and calorie labeling requirements, which are aimed at changing the social and physical environment around food. Example programs and campaigns:

Nutrition Education
Whether at our farmers markets, through our Citywide school gardens initiative Grow to Learn, public health campaigns, or programs for children, New York City is committed to helping inform New Yorkers about how to make positive choices for their diet and health. Example programs:

New York City Agency Food Standards
Standards for Meals and Snacks Purchased and Served
New York City was the first major city in the country to set nutrition standards for all foods purchased or served by the City. The standards apply to the approximately 270 million snacks and meals per year that are served in places such as schools, senior centers, homeless shelters, child care centers, after school programs, correctional facilities, public hospitals and parks. The standards require City agencies to serve only healthier beverages such as skim or 1 percent milk and water, eliminate deep frying, include two servings of fruits and vegetables in every lunch and dinner, and lower salt content and increase the amount of fiber in meals served.

Other NYC Food Standards
New York City has established standards for all beverage and food vending machines contracted by City agencies as well as standards for food served at meetings and events sponsored by City agencies and standards for commissaries in correctional facilities. All standards are pursuant to Executive Order 122.

Local Procurement Guidelines
In June 2012, NYC announced an additional set of guidelines encouraging City agencies to procure more food products grown, produced or harvested in New York State and to work with vendors to track current purchasing of NYS food where information is available.
Local Procurement Press Release
Learn more about the New York State Purchasing Food Guidelines, Resources and Crafting Solicitations