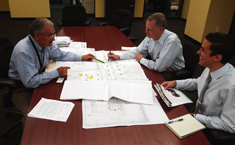 NYC Business Acceleration's goal is to create a customer friendly environment for business owners and licensed professionals, by providing three core services:

Client Management
Upon enrolling in the NYC Business Acceleration program, each business is assigned a client manager who facilitates all interactions with the City on behalf of the business owner. Client Managers provide the following services:

Serve as the business owner's point person from lease signing to opening
Schedule and coordinate most required inspections
Address all questions, comments, and concerns
If you are opening a Food Service Establishment and are not yet an NYC Business Acceleration client, please contact the Client Management Team. If you qualify for our services, you will be invited to use our new Customer Portal. For more information about this tool, please visit the "customer portal" section.

Plan Review
Businesses undergoing new construction within their space can receive streamlined plan reviews through NYC Business Acceleration. Plan Examiners will:

Review most e-filed plans
Schedule meetings with applicants to discuss objections or compliance issues
Work in conjunction with the NYC Department of Buildings (DOB) and the NYC Fire Department (FDNY) to address and resolve complex code requirements
For a comprehensive overview of how the NYC Business Acceleration plan review process works, see below:


To begin the plan review process, file your application at DOB borough office and then drop off your plans to the receptionist at 110 William Street, 7th Floor, New York, NY 10038. For appointments and drop-offs of plans and documents, please also see the receptionist on the 7th floor. For pick-ups of approved plans or disapproved folders, please go to 110 William Street, 2nd floor and use the courtesy phone to call a staff member to assist.

For Fire Suppression Ranghood plans, you may electronically submit all required DOB documents, signed/sealed TMR-2 application, contractor's affidavit and plans (in PDF form) to Rangehood@nbat.nyc.gov for plan examination. The plans will be reviewed by FDNY and DOB plan examiners located at NYC Business Acceleration office.




Inspections
NYC Business Acceleration coordinates multi-agency inspections:

Inspections are conducted to ensure satisfactory compliance
with all health and fire codes.
Results are provided immediately and re-inspections are conducted when necessary.
To learn about what permits related to eating and drinking establishments need inspections, please visit the "Food & Beverage Establishments" section.