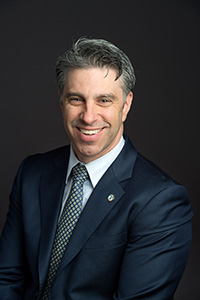 Victor Calise
Commissioner
Commissioner Calise has served city government for over a decade and as Commissioner for the Mayor's Office for People with Disabilities under two administrations. Victor is a deeply motivated leader dedicated to helping others with disabilities.
As Commissioner, he sets disability policy, advises the Mayor and city agencies, creates partnerships and initiatives that better the lives of people with disabilities, advocates for the passage of legislation; and is the chair of the Accessibility Committee of the NYC Building Code. Under his leadership he is working to make New York City the most accessible city in the world in Transportation, Employment, Education and Access to city services and programs.
Prior to leading MOPD, Victor joined the NYC Department of Parks & Recreation as the Americans with Disabilities Act (ADA) Coordinator. The New York City parks system comprises 29,000 acres and mostly historic properties designed and built prior to the NYC accessibility laws and the ADA. He coordinated efforts to improve accessibility compliance agency-wide. This included a transition plan to address accessibility for parks, playgrounds, beaches, recreation and nature centers, routes and trails and a variety of other features which included public programs.
Early in his career he served as Recreation Coordinator for United Spinal Association, eventually rising to Director of Special Projects - lobbying State and Federal government on Spinal Cord Research, Housing, Transportation and Voting Rights. His last position was Director of Sports Marketing where he integrated disabled sport with able bodied sport securing sponsorships with local and national sport franchises including the National Hockey League and Major League Baseball.
Victor is an athlete and proud member of the first USA Paralympic Sled Hockey Team that competed in the 1998 Paralympic Games in Nagano, Japan.
He currently lives on the upper west side of Manhattan with his wife and two children.