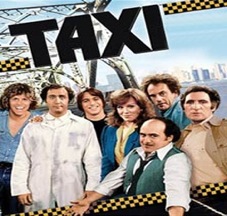 As with film, New York City has been the setting for many television shows involving taxicabs. The most famous of these was the situation comedy Taxi, which originally aired from 1978 to 1982 on ABC, and from 1982 to 1983 on NBC. Aside from launching the careers of actors Judd Hirsch, Danny DeVito, Tony Danza, Christopher Lloyd, Marilu Henner and Jeff Conaway, it included controversial up-and-coming comedy star Andy Kaufman. The series won 18 Emmy Awards, and focused on the everyday lives of a handful of New York City taxi drivers and their charismatically abusive dispatcher.

Other familiar shows included Hack, which starred character actor David Morse (also known for The Green Mile and a popular run of episodes on the hit Fox drama House).

In a plotline on the situation comedy Friends, the character Phoebe spent some time behind the wheel of a Checker cab when her aunt bequeathed her one in her will.