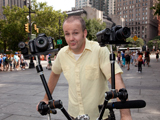 Rich Collier is an Emmy-winning TV host and producer… and an accomplished comedy writer.
Rich is best known as the host/producer of Subway Q&A with Rich Collier, one of the highest-rated series in the unfortunately brief history of The Metro Channel.  Over its five-year run, Subway Q&A picked up twelve New York Emmy Awards, including three for Rich in the category of "Outstanding On Air Achievement," and four for "Outstanding Entertainment Program." Rich's "Collier's Community" pieces aired twice a week for three seasons on The Hallmark Channel; he hosted a series of 10 "Street Beat" specials for the CBS2 Morning News; He's been a guest host on the Fine Living network's Simplify Your Life, and a special contributor for the PBS Series Life Part 2.
As a producer Rich has completed projects for ABC, NBC, FX, A&E, Lifetime, VH1, and MTV.