Hulk Hogan's Heroes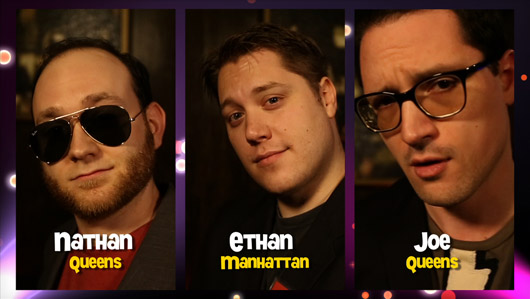 Nathan Brown lives in Queens and is a big fan of the restaurants on 30th Avenue in Astoria. He works as a TV studio camera operator and shoots everything from movie reviews to long-form features. He met his team mate, Joe, at a local improv class. His team is no stranger to The Big Quiz Thing's local shows.

Ethan Kayelives in Manhattan and his team mates call him an "all-around nice guy. " He's an ad writer for pharmaceutical companies who also finds time to write comic books and novels. Ethan says he excels at music trivia.

Joe Vitale lives in Queens. He's an animator who adapts foreign shows for American viewers, which means assignments like re-writing Brazilian cartoons for English language audiences. Last summer he went to Japan with team mate, Ethan, who he met at Comic Con.
BACK TO TOP
---
Things Are Nice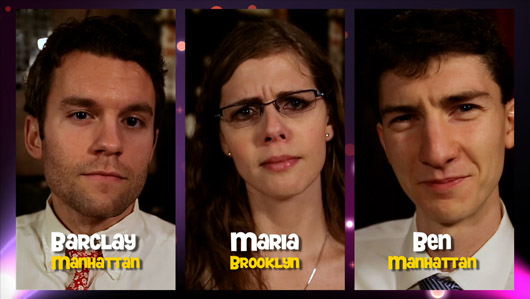 Barclay Richey is a digital media analyst who lives in Manhattan. An avid crossword puzzle writer, Barclay's passionate about music and considers himself a trivia diehard. Barclay and teammate Ben met in high school in New Jersey.

Maria Savel resides in Brooklyn and works as an editor for a foreign policy web site. She lived in Europe for five years and knows where the best waffles and beer are in Belgium. She says she exhibits aggressive tendencies while riding a bike – and playing trivia.

Ben Zimmerman lives in Manhattan and works as a loan analyst. A boxer in college, Ben says he's a knock-out when it comes to NYC sports facts. And that goes for movies and 90s music too.
BACK TO TOP
---
Scurrilous Accusations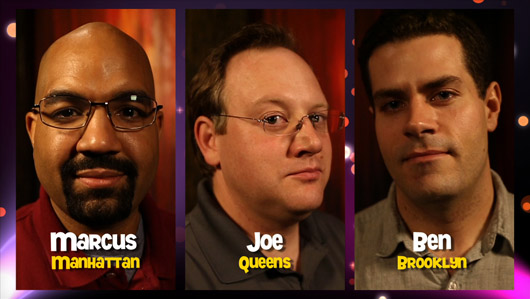 Marcus Jelks is an information technology expert who's lived in NYC and says he's full of adventure and humor. That must be why he submitted a photo of himself petting a lion during team try-outs! Marcus says his team rocks the history, geography and sports categories.

Joe DiDio lives in Queens. He's an engineer who creates lighting designs for architects. During the summer months he's been spotted doing research in Alaska, Japan, and at the Biosphere in Arizona. He met one of his fellow teammates, Ben, when they were undergraduates at Columbia.

Ben Lucki lives in Brooklyn where he's a high school math teacher. He is proud of the fact that Scurrilous Accusations recently won the "Best New Team" prize at a local Big Quiz Thing trivia night. Ben says he's a walking encyclopedia on NYC food trucks. He once worked in a video store, which is where he met teammate Marcus.
BACK TO TOP
---
We're Not Metal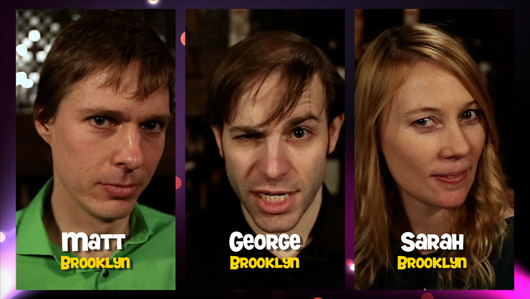 Matt Wasowski lives in Brooklyn and is an educational software engineer who hosts "nerd nights." These are talks on math and science in a bar atmosphere which aim to be entertaining. Matt's father runs a trivia night in Florida three times a week, so Matt's propensity for obscure facts runs in the family. He's recently become engaged to teammate Sarah.
George Pasles also lives in Brooklyn and is a text book editor who plays guitar in a band with Sarah. He once had his own TV show in Philadelphia in the mid 90's. He claims to be the perpetual third wheel in the team relationship.
Sarah Brockett lives with Matt in Brooklyn and is a writer for multi-media tours at museums. She plays bass guitar in a band with team mate George. Her background as a tour writer gives her an edge with historical questions. She describes their team as enthusiastic yet actually smart.
BACK TO TOP
---
Tribeca de Mornay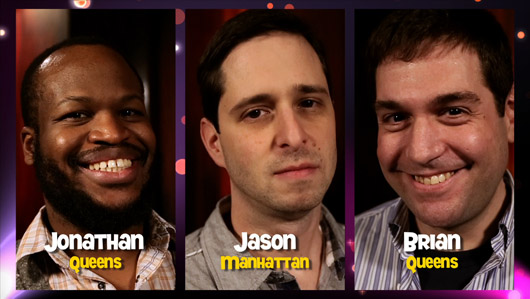 Jonathan Corbblah lives in Queens and is a professional game player and chess teacher. Jonathan has competed at almost every trivia bar night in NYC, and can be found several times a week taking on the best chess players in Washington Square Park or Union Square. He claims never to have owned a coat.
Jason Heller lives in Manhattan and is an attorney at a major record label. He's played trivia for years and his grandfather was an actor in Yiddish Theatre in NYC. Jason and the team say that if they were the Beatles, Brian would be John, Jason would be Paul and Jonathan would be a combo of George and Ringo!
Brian Levinson also lives in Queens and is a writer and editor at an educational software company. He went to Yale with Jason in the 1990's, has biked the entire city and claims his fate is entirely dependent on the New York Mets.
BACK TO TOP
---
The Know Nothings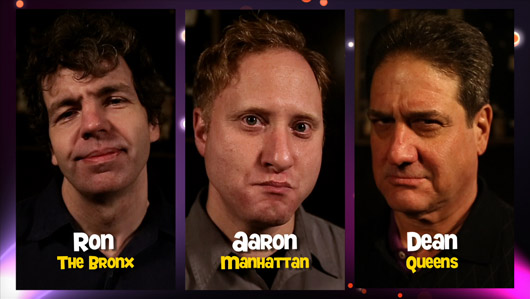 Ron Young lives in the Bronx and is a tour guide and chess teacher. Ron's craziest tour guide story? A foreign visitor once told him that if he rubbed a certain body part on the Wall Street Bull statue that he would be destined to return to New York.
Aaron Tabackman lives in Manhattan, and is a tour guide as well. He was a Pedi cab driver for five years, often carrying celebrities to their destinations. He and the guys believe a team made up of three tour guides has to have an edge in this competition!
Dean Carlsen lives in Queens and is a tour guide. He has an MBA and has been a hotel concierge in the past. He once lost his wallet on the subway and it was returned with his $100 still inside it.
BACK TO TOP
---
YOLO Tengo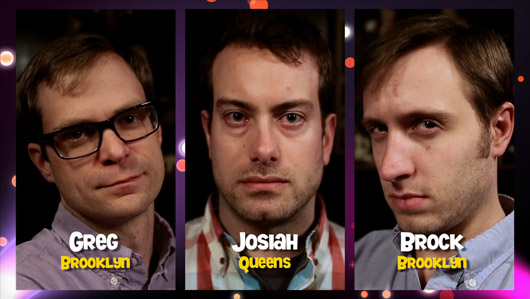 Greg Volk is also a writer who lives in Brooklyn. He up on quirky pub trivia, which is mainly what he writes about. Here's his wackiest story about the team: They once came in second at a bar quiz night where their prize was day-old pizza. And guess what? They ate it! Here's a team that stops at nothing to enjoy all aspects of winning.
Josiah Madigan was born in Sweden but now lives in Queens. He's a game show writer, so don't be surprised if he will do everything in his power to try to snare The Big Quiz Thing trophy! Josiah and his team say they will stop at nothing to win because – like their name – "You Only Live Once"
Brock Mahan was born in Queens, but lives in Brooklyn. He's a cable TV writer who says his strengths lie in City lifestyle and history trivia. He met fellow team mate, Greg, when they were pages at a well-known comedy show. He likes the fact that his team's name has many meanings, and says that like the famous band, they are a power trio.
BACK TO TOP
---
Huge in Germany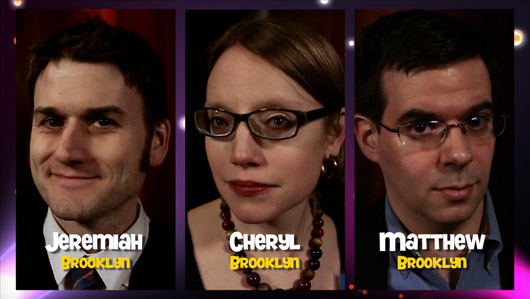 Jeremiah Conway lives in Brooklyn and teaches English and history in Bushwick. He takes pride in the fact that he won his first-ever trivia contest by knowing the theme song to the TV show, "Three's Company." Jeremiah says he's good at Brooklyn history and literature.
Cheryl Klein is a children's book editor who lives in Brooklyn who claims her trivia specialties are literature, culture and Broadway. She's from a small town in Kansas and growing up she kept a map of NYC over her bed. Dreams really can come true.
Matthew Grieco lives in Brooklyn who earns his living as an appellate attorney. A self-professed natural competitor, he likes to play bar trivia in his free time and says he's excellent on all things sports. Matthew claims his team bickers a lot, since they all think they're right all the time.
BACK TO TOP
---
Triangle Squared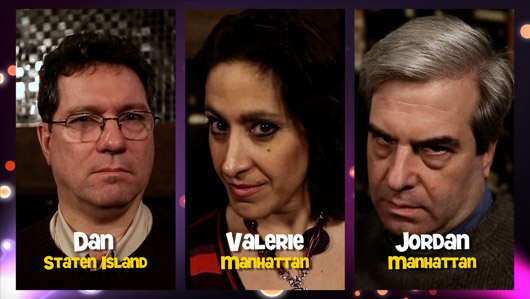 Dan Fiorella is a writer who lives on Staten Island. Married with three grown daughters, Dan says his team's strengths include history, culture, architecture, and possibly sports.
Valerie David lives in Manhattan and splits her time as an office administrator and actor. She met team mate Jordan while working on an off-off-off Broadway production. Like Jordan, Valerie's participated on some major game shows, so that may make Triangle Squared a force to be reckoned with!
Jordan Auslander has deep roots in New York: He's an actor and Manhattan-based genealogist. One of his most offbeat assignments has been registering a family's sycamore tree in the Bronx. He met teammate Dan at a local cable TV show. Jordan says he's a popular guy and everyone's "phone-a-friend."
BACK TO TOP
---
None The Wiser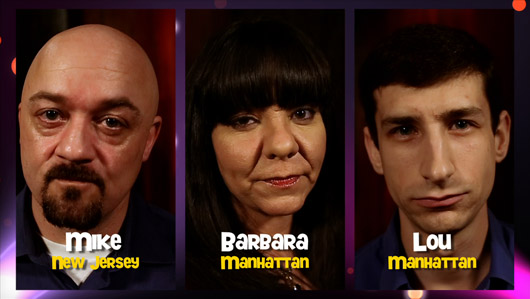 Mike Motz lives in New Jersey and splits his time doing stand-up comedy and work in the information technology and finance fields. He's a Trivial Pursuit whiz and super-competitive at trivia games. Mike says his team's strengths are entertainment, geography, transportation and architecture trivia.
Barbara Perez lives in Manhattan and is the manager of a fast-food Indian restaurant who dabbles in stand-up comedy. She claims she gets information about the City by talking to random people she sees on the street. Barbara happened to be next to the car that almost blew up in Times Square a several years ago. She's says she's confident that her good luck will continue during the game.
Lou Stone Borenstein lives in Manhattan. He's an office administrator who also finds time for comedy writing. Lou grew up in Greenwich Village and is a self-proclaimed expert on the NYC subway system.
BACK TO TOP
---
Team Dan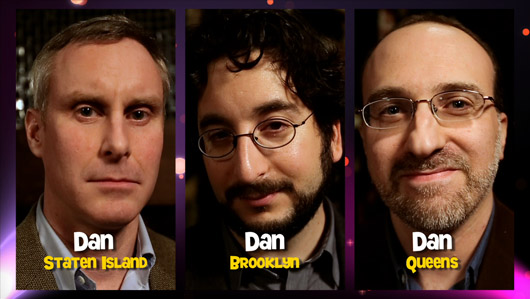 Dan McCabe lives on Staten Island and is a security guard at one of New York City's premier art museums. He was a cab driver for just one day before switching professions. He's held his job at the museum for the past 13 years.
Dan Levinson Wilk lives in Brooklyn and is a college professor whose specializes in United States, New York, and Hollywood history. A recent dad, Dan was a college roommate with teammate Dan Saltzstein.
Dan Saltzstein lives in Queens and is a newspaper travel editor. He grew up in Westchester and has also lived in the East Village. He's considered the "urban sophisticate" of Team Dan.
BACK TO TOP
---
Team TK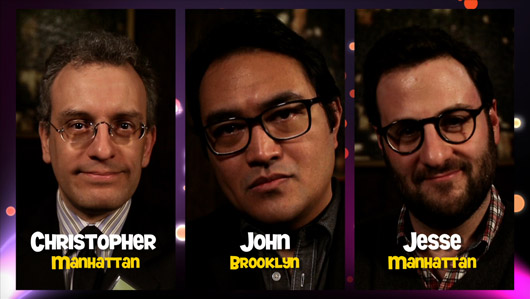 Christopher Bonanos lives in Manhattan and is a magazine writer on urban and cultural affairs. He wrote a book on the history of the Polaroid camera and has been described by his friends as being Wikipedia before Wikipedia existed, obviously an advantage for a trivia game.
John Dioso lives in Brooklyn and is a magazine editor and writer. He met teammate Christopher at a magazine they both wrote for and his strengths include music, pop culture and "nonsense" trivia.
Jesse Oxfeld lives in Manhattan and is a newspaper theatre critic. He's also worked for well-known national magazines. Jesse says the name Team TK is a print journalist abbreviation which means "to come." The TK gets people's attention as an article goes to press, reminding them to fill in the correct name before the deadline.
BACK TO TOP
---
Disasters of Biblical Proportion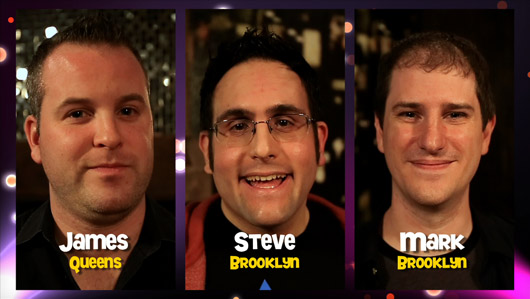 James Harley resides in Queens and is a water engineer for the City. A literature and music trivia nut, James says he's also memorized Gotham's entire subway map! James met trivia-partner-in-crime Steve in high school.
Steve Flack, a big pop culture buff, lives in Brooklyn. By day he works as a TV and film editor. At night you may find him – along with his other team members - crushing the competition at The Big Quiz Thing's local shows. He's says he's incredibly lucky because he met his girlfriend at a BQT Ladies Night event.
Mark Beazley lives in Brooklyn and is a comic book editor. It turns out that "Beazley" is also the last name of a fictional comic character, so it's hard to tell if that's Mark's real name. However, since Mark is also a history buff, we'll take him at his word. What we do know is that he's a previous game show champ and tough BQT competitor.
BACK TO TOP
---
Cat's Gotta Eat, Carl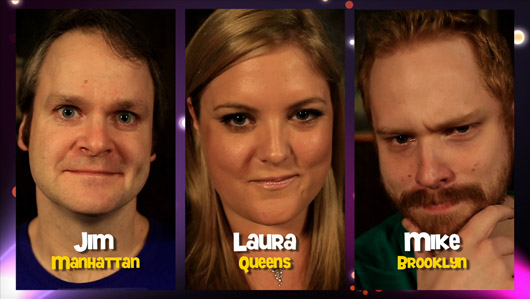 Jim Collins lives in Manhattan and is an investment manager. Jim met Laura at a trivia event where she invited him to play on her team. Good thing - he took them from last to first place in one round! Jim's big on sports, science and geography, and thinks of himself as "the brains" of the team.
Laura Burkart (along with her two cats) hails from Queens. She dabbled in acting and theatre in college and now works as a talent manager at an ad agency. She's such bar trivia regular that one Manhattan hot-spot has a special chair reserved just for her. Her biggest brush with fame: Comedian Jackie Mason played trivia with Laura and reportedly tried to get a date!
Mike Bubb lives in Brooklyn and loves sports and science trivia. He works for the Department of Education as a teacher's aide for special needs children. Every Monday night he can be found competing at a local trivia spot, where he and his teammates have been the reigning champs for three years. Mike used to be on a rival team of Jim and Laura's, but then they joined forces and became fast friends.
BACK TO TOP
---
A Cubed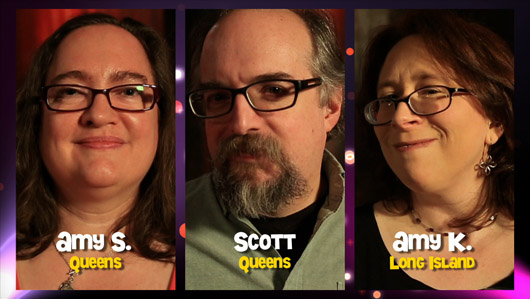 Amy Stephenson lives in Queens and is married to fellow teammate, Scott Bateman. She's a writer/editor for a PR firm and also writes web copy and speeches. No stranger to the world of trivia, Amy is a former Jeopardy Champion.
Scott Bateman lives in Queens and is originally from Portland, Oregon. In addition to being a humorist, he runs a twitter account that provides alternative trivia and facts to his followers. Scott says living in N.Y provides many opportunities for random celebrity sightings.  He once witnessed Huey Lewis trying to hail a cab.
Amy Kelly lives in Mineola, Long Island. She's a technical writer, and is passionate about architecture, sculpture, art, and music. Amy K met teammate Scott while participating in an online forum and later, formed a team with Amy S. to compete in Scrabble for Cheaters. She hopes to get a t-shirt for her daughter.
BACK TO TOP
---
The Fiscal Cliffhangers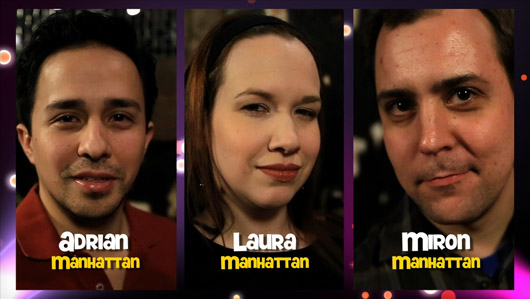 Adrian Pena also lives in Manhattan and is a professional dancer and actor. All three teammates used to go to bars and watch trivia games a couple of times a week. Adrian's dream has always been to perform in NYC, and now he's made it a reality.
Laura Gusso lives in Manhattan. She's an investment assistant and married to Miron Gusso, one of her teammates. Laura became best friends with Adrian, the third member of the team while attending NYU. She loves the Metropolitan Museum of Art and has taken a class in art history there.
Miron Gusso lives in Manhattan with his wife, Laura, and is a professional puppeteer. Miron loves his work, which includes operating the big T-Rex puppets at the Dinosaur Park in Secaucus, New Jersey. But being a puppeteer can be challenging: He gets back pain from performing in strange positions and often gets stopped by building security for carrying odd things in his bag. Prior to puppeteering, Miron spent years in the NYC restaurant and bartending scene.
BACK TO TOP
---
The Fat Kids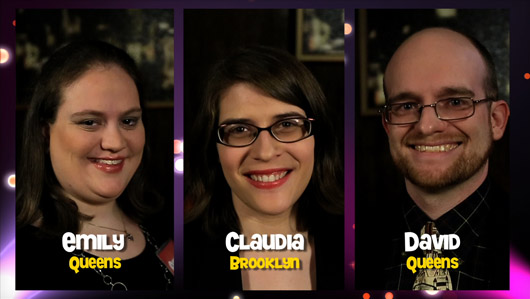 Emily Sigal lives in Queens and grew up in Albany, NY. A graduate of Rider University, Emily works in the entertainment industry doing marketing and customer service. In her spare time she enjoys piano bars, skeet-ball and playing trivia. Her family is related to Queen Anastasia of Russia.
Claudia Stuart lives in Brooklyn and is a theatrical accountant. She says she spends more time thinking about Broadway and the New York pop scene than a healthy person should, which gives her an advantage playing trivia games. Claudia's great-great grandfather was a bootlegger who sold alcohol out of a baby stroller.
David Letzler lives in Queens and was raised on the south shore of Long Island. He's a professor at a CUNY college and knows many arcane facts about the City. His family is related to Robin Hood.
BACK TO TOP
---
Not Here to Make Friends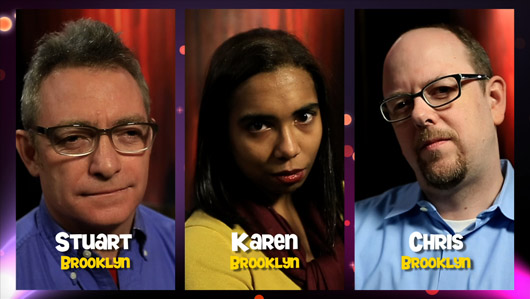 Stuart Post lives in Brooklyn and is married to Chris. He used to work at a community foundation in Brooklyn and these days volunteers assisting seniors. He's going back to school and has become the family cook on his break from work. He says Not Here to Make Friends is an interracial, interfaith, inter-everything team of buddies.
Karen Ash lives in Brooklyn and is a product analyst. She's a native New Yorker who lived in London for two years. She, together with her two teammates, used to be regulars at trivia nights in the West Village at venues that have sadly shut down. Since then, the teammates have been "trivia nomads". But they get together once a month to attend different trivia spots around the City.
Chris Kelley lives in Brooklyn and is a product manager. In fact, Chris is Karen's boss's boss. Chris is also married to Stuart, the third member of the team. They met Karen nine years ago at pub trivia nights and started out as bitter rivals on opposite teams. Since then, they've banded together to form a "super team".
BACK TO TOP
---
The Cry Babies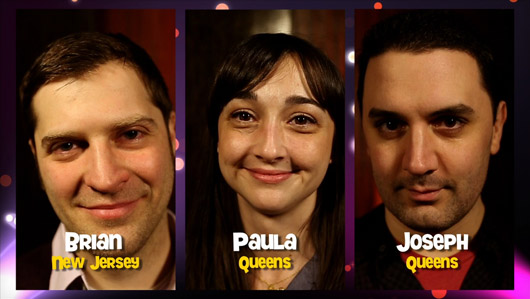 Brian Hoffman lives in New Jersey and is a tour guide and food blogger. He has eaten the top-rated 100 dishes in NYC for the past three years. Brian has been a waiter for the past decade in various local restaurants and met teammate Joseph during this time. He's fascinated by the City's food culture.
Joseph Mazzella lives in Queens, and is a director, producer, actor, writer and singer. Joseph meets a lot of people filming in random places on the streets of the City and sometimes puts them in his films. Other times, he simply buys them lunch.
Paula "Flash" Hartness lives in Queens and is an office manager. Paula's nickname "Flash" happened at a party where she was introduced as someone's friend-slash-girlfriend. At one time, Paula, Joseph and Brian were all roommates in Astoria.
BACK TO TOP
---
The Second Avenue Linemen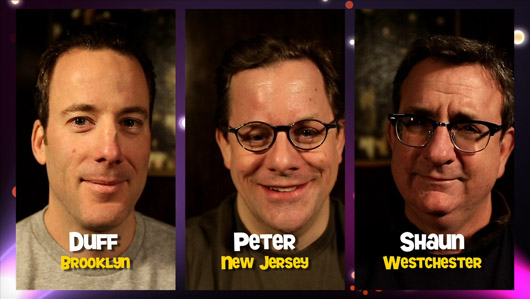 Shaun Assael lives in Westchester and is a sports magazine journalist. He comes from Queens, and hopes winning a trivia contest will dispel the persistent myth that people from Forest Hills are wimps. In fact, Shaun hopes that being on a television quiz show will help dislodge the ton of useless information he's accumulated over the years.
Peter Keating lives in New Jersey and is also a journalist for a sports magazine. He specializes in analyzing sports statistics and predicting team strategies. Peter predicts that the Second Avenue Linemen will win The Big Quiz Thing.
Duff McDonald lives in Brooklyn and is a journalist for several national magazines, as well as a biography author. Duff loves NYC in the 1870's during the Gangs of New York and Boss Tweed period when lawlessness reigned. He believes a team of three print journalists have an edge when it comes to City knowledge. The question is: Can they extract that knowledge under pressure?
BACK TO TOP
---
Team Champagne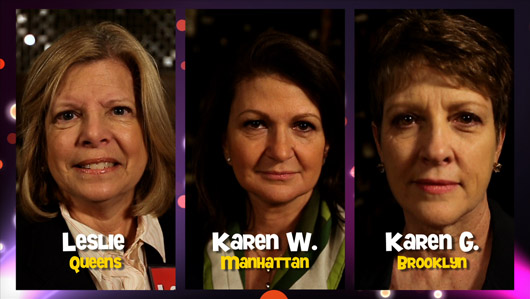 Karen Gafney lives in Brooklyn and is a marketing consultant. She develops web applications and sales materials. Karen and her two teammates all grew up in Richmond Hill, Queens, and have a deep love and appreciation for the City. She says their team name reflects a desire to live the good life.
Leslie Hammer lives in Queens and is a proud product of the New York City school system. Not only was Leslie educated in the City's schools, but for many years taught music and special education in Howard Beach, Queens. Now retired, she enjoys going to museums and theatre.
Karen Williams lives in Manhattan and does interior architectural design, specializing in kitchens. She's currently working with an artist who has six cats, designing mechanical feeding dishes so no one has to bend down to put out their food.
BACK TO TOP
---