SIT AND BE FIT COMES TO CENTRAL PARK AS LOCAL SENIORS TAKE PART IN OUTDOOR EXERCISE PROGRAM
Series Airs Locally on NYC life, Weekdays at 3pm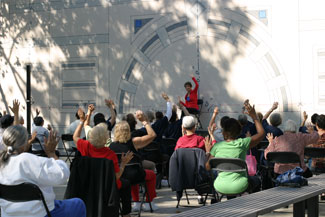 September 30, 2011 - Mary Ann Wilson, host of the nationally televised exercise series Sit and Be Fit which airs locally on NYC life, led a live outdoor, group exercise for local seniors in Central Park. As part of "Fitness Fridays" at "Scene @ Tavern on the Green," more than fifty seniors came from local senior centers and were treated to an hour-long exercise under the canopy of trees on the terrace of Tavern on the Green.




The engaging exercise series shows ways seniors can maintain their physical health and help to prevent falls. There are more than 1.3 million older New Yorkers living in the City today. This number is expected to grow by 46% by 2030, potentially increasing the number of falls. Every year New York City emergency departments treat more than 24,000 older adults for injuries due to falls while hospitals admit almost 18,000 older adults for fall-related injuries.

"Part of our mission to inform and educate New Yorkers includes broadcasting entertaining and healthy programming on the City's TV stations, and we've certainly found a fan favorite among our senior viewers with Sit and Be Fit," said Commissioner Oliver, Mayor's Office of Media and Entertainment. "We want to thank Mary Ann Wilson for being a special part of today's event as well as the Department for the Aging, the Department of Health and Mental Hygiene and NYC & Company."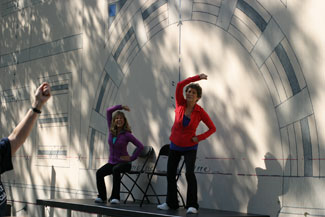 NYC life, part of the official network of the City of New York, filmed the workout, which is scheduled to air as a future episode in the upcoming season. Sit and Be Fit airs on NYC life (channel 25) weekdays at 3pm. The series has been broadcast on PBS stations since 1987 to more than 82 million households each year.

Last week, in recognition of Falls Prevention Awareness Day, City officials detailed various initiatives to increase falls prevention awareness among older adults and caregivers, including a new website devoted to falls prevention and the formation of a broad coalition of community partners that will address the issue at the grassroots level. The website includes links, falls prevention brochures, checklists, demographic information on falls risks, as well as other resources.