GET IN THE GAME WITH NYC HIGH SCHOOL BASKETBALL AND CITY HARDWOOD
Basketball Reality Series Premieres on NYC life Sunday, January 22 at 8pm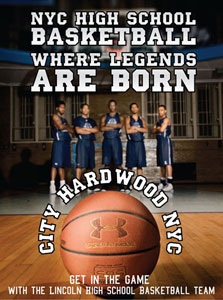 January 18, 2012 - New York City's high school basketball scene is world famous, and starting Sunday, January 22 on NYC life, City Hardwood takes viewers inside one of the most prestigious programs in the nation, Coney Island's Lincoln High School. NYC life (Channel 25) is the flagship station of NYC Media, the official network of the City of New York.
City Hardwood follows legendary coach Tiny Morton, famous for developing elite college prospects and NBA players from his talented squad. Tiny knows better than anyone that being a high school coach in Brooklyn means focusing not only on the Xs & Os but also on keeping young men in the gym and out of trouble.
As always, this year's Lincoln squad has its sights set firmly on a City Championship; this time, however, they'll be led by an underclassman. "Super sophomore" Isaiah Whitehead exploded onto the scene as a freshman to become a national name. With colleges already making him offers, Isaiah is next in a long line of superstars to emerge from Coach Morton's tutelage, a list which includes Stephon Marbury, Lance Stephenson and Sebastian Telfair.
The Lincoln Athletic Department has always considered itself a family, but this season Coach Morton's son Treyvon will be playing for his father, making it truly a family affair. In addition to following Lincoln both on and off the court, City Hardwood will cover the most compelling basketball stories in the Public School Athletic League (PSAL) including: Lincoln's rival, the reigning City champ, Bedford- Stuyvesant's Boys & Girls High School led by Coach Ruth Lovelace; and the top girls' teams, including longtime powerhouse Manhattan's Murry Bergtraum High School and Thomas Jefferson High in Brooklyn.

TUNE IN
City Hardwood airs Sundays at 8pm on NYC life (Channel 25), beginning on January 22. Episodes will re-encore Tuesdays at 4pm, Wednesdays at 9:30pm, Fridays at 4pm, and Saturdays at 3pm. NYC life is available in the New York tri-state area on broadcast, cable and satellite channels. Visit nyc.gov/media for local cable and satellite listings. City Hardwood will also be available to watch online on the NYC Media Video on Demand player – nyc.gov/vod, from iTunes and through the NYC Media app, available to download for free from iTunes. New episodes will be added each week.