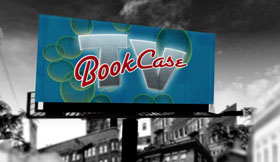 BOOK CASE TV TRACKS DOWN THE LATEST RELEASES FOR BOOK LOVERS
Series Premiere on Monday, October 29 at 9:30pm on NYC life

October 23, 2012 - Book Case TV – NYC life's new series featuring interviews with best-selling authors, news from the publishing world and a showcase of the latest releases – premieres Monday, October 29 at 9:30pm. NYC life (Channel 25) is the flagship station of NYC Media, the official network of the City of New York. Each episode of Book Case TV offers in-depth interviews with a variety of authors including Lee Child, Amy Sohn, David Morrell, Sapphire and Naomi Wolf as well as visits to local literary events. Need a new book recommendation? Host Frederic Colier has it covered in Pick of the Week with selections of newly released books from a range of genres.



TUNE IN

Book Case TV premieres on Monday, October 29 at 9:30pm on NYC life (Channel 25). Episode will re-encore on Wednesdays at 12am, Thursdays at 4:30am, Saturdays at 2:30pm, and Mondays at 2am. NYC life is available in the New York tri-state area on broadcast, cable and satellite channels. Visit nyc.gov/media for local cable and satellite listings. Book Case TV will also be available to watch online on the NYC Media Video on Demand player – nyc.gov/vod – and through the NYC Media app, available to download for free from iTunes.

ABOUT THE EPISODES
Episode 1: Setting the Tone (Monday, October 29, 9:30pm)
For the season premiere, host Frederic Colier interviews Rambo creator David Morrell about his upcoming novel Murder as a Fine Art. During Book Case TV News, Frederic visits Book Expo America at the Javits Center to speak with Michael Koryta (The Prophet), Sylvia Day (Bared to You) and Robin Sloan (Mr. Penumbra's 24-Hour Bookstore) followed by a segment with author Lee Child as his Jack Reacher novels hit the big screen.
In Pick of the Week, Frederic discusses Allan Topol's thriller The China Gambit, Jessica Keener's debut work Night Swim, Kambri Crews' memoir Burn Down the Ground and Steve Berry's latest The Columbus Affair.
Episode 2: It's a Thrill Fest (Monday, November 5, 9:30pm)
Host Frederic Colier visits Thriller Fest, the annual author gathering, and sits down with Sandra Brown (Lethal), Douglas Preston (co-author of Two Graves), Lee Child (A Wanted Man), Austin Camacho (The Piranha Assignment), Richard North Patterson (Fall from Grace), Phillip Margolin (Capitol Murder), John Sandford (Stolen Prey), Peter James (Not Dead Yet), M. J. Rose (The Book of Lost Fragrances), Steve Berry (The Columbus Affair) and Alma Katsu (The Reckoning: Book Two of the Taker Trilogy).
Later in the episode, Frederic visits Café du Soleil with astrologer Susan Miller, author of The Year Ahead, then chooses Anne Korkeakivi's novel The Unexpected Guest, Dawn Raffel's memoir The Secret Life of Objects and Andrea Kane's latest installment in the Forensic Instincts series, The Line between Here and Gone, for Pick of the Week.
Episode 3: Mothers and More (Monday, November 12, 9:30pm)
On a visit to Park Slope, host Frederic Colier meets Motherland author Amy Sohn and chats with Kerri Reichs about her novel What You Wish For. Frederic then ventures to RT Book Reviews, a Brooklyn-based magazine that originally focused on romance novels, but has since widened to showcase other genres, like thriller and sci-fi.
For Pick of the Week, Frederic selects Jessica Grose's debut Sad Desk Salad, Jennifer Weiner's latest The Next Best Thing and Elissa Montanti's memoir I'll Stand by You: One Woman's Mission to Heal the Children of the World.
Episode 4: Booklyning in Brooklyn (Monday, November 19, 9:30pm)
After a visit to the Brooklyn Book Festival, host Frederic Colier interviews Naomi Wolf about her controversial book, Vagina: a New Biography. Later Frederic sits down with internet specialist Andrew Blum for a conversation about Tubes: A Journey to the Center of the Internet.
Rob Spillman, editor of Tin House, and Patrick Ryan, associate editor of Granta, share their thoughts about the future of literary magazines. In the latest edition of Pick of the Week, selections include Michael Chabon's new novel Telegraph Avenue, Hampton Fancher's collection The Shape of the Final Dog and Other Stories and William Kent Krueger's mystery Trickster's Point.
Additional episodes to follow.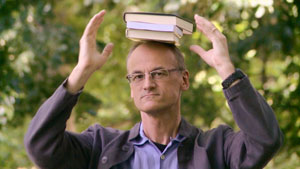 Host Frederic Colier.

BEHIND THE SCENES
Frederic Colier (executive producer, host)
While a student, Frederic worked for four years at the now defunct Borders Books and Music. He segued into the audio-visual world in 2000 and founded Altered Ego Entertainment. Over the years, he has worked extensively in film and documentary as a writer, director and producer. He is the author of several novels, short story collections and plays. He holds a MA in literary criticism. 
Max Shuppert (executive producer, director)
Max has worked with Altered Ego Entertainment since 2004. Since then, he has been involved virtually in all its projects as both a DP and director. Coming from a family of painters, photographers and musicians, Shuppert has pursued his career since 1987, creating imagery both still and moving for the entertainment industry, Fortune 500 companies, major retailers and charitable organizations.