NEW SHOW ART/TREK NYC TO FEATURE EMERGING ARTISTS FROM EACH OF THE FIVE BOROUGHS
Series Premieres on NYC life Beginning Monday, January 9 at 9pm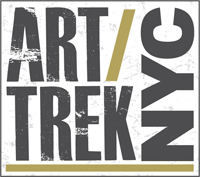 January 4, 2012 - Art/Trek NYC, premiering in January, branches out to the five boroughs in a quest to showcase new and emerging artists in the latest series premiering on NYC life (Channel 25). Traveling in the show's signature mobile art gallery – a converted recreational vehicle, nicknamed the ArtV – host CJ Follini joins a different borough-specific guest host in each episode to meet a rising artist who's on the verge of breaking into New York City's competitive art scene. Each artist puts together an impromptu art show in the ArtV and invites residents from their neighborhood to view the work and share their opinions on camera about the art. One of the five artists will be selected to have their first ever solo gallery show, which will be featured in a future episode. Each episode also includes music from performers discovered through the MTA Arts for Transit "Music under New York" program.

Art/Trek NYC premieres Monday, January 9 at 9pm. NYC life (Channel 25) is the flagship station of NYC Media, the official network of the City of New York.



ABOUT THE HOST 

CJ Follini, born and raised in New York, is a serial entrepreneur. He earned a degree in econometrics from the London School of Economics and has previously worked as the director of The Shooting Gallery and as the founder and CEO of Gun For Hire Digital Media Studios. The West Village-based Gun For Hire Studios won the 1998 Crain's Small Business Award. CJ has also produced award-winning films and currently serves as the co-chairperson of the Board of Directors for the renowned HERE Arts Center in SoHo.

ABOUT THE EPISODES 

Brooklyn (Air date: Monday, January 9, 9pm)

Episode: Art/Trek NYC travels to Flatbush with acclaimed performance and video artist Kalup Linzy to meet Edoheart, an emerging performance artist. Journeying from the Brooklyn Museum to Fort Greene, Kalup and Edoheart choose from her many styles of painting, performance and video to curate ArtV, Art/Trek NYC's mobile art gallery. The episode introduces her work to the public and records their unfiltered reactions.

Featured Artist: Born in Nigeria, Edoheart is an award-winning poet, musician, dancer and visual artist. Her work often concerns trauma, iconography, African identity and trance. Her live shows feature video projections, her own songs and ritualistic dance. Edoheart holds two Bachelor's degrees from the University of Michigan (Ann Arbor) and Hunter College and is completing a Master's degree at NYU. She also facilitates workshops in the arts and has published two books of poems.

Guest Host: Kalup Linzy is a video and performance artist based in Brooklyn. His work is in the public collection at the Studio Museum in Harlem, Whitney Museum of Art and the Museum of Modern Art. In 2010, he appeared on the ABC daytime series General Hospital alongside James Franco in a storyline that incorporated performance art. In 2011, he was featured in the production Four Saints in Three Acts: An Opera Installation presented by the San Francisco Museum of Modern Art and Yerba Beuna Center. He received his MFA from the University of South Florida.
***
Manhattan (Air date: Monday, January 16, 9pm)
Episode: Art/Trek NYC takes off from the Lower East Side of Manhattan to the art world epicenter of West Chelsea with guest host Kristin Marting, co-founder and artistic director of the renowned experimental HERE Arts Center. Kristin and CJ introduce Allison Kaufman, an emerging multi-media artist with a fascinating and complex style. New Yorkers then react to her unconventional process work in the mobile art gallery, ArtV.
Featured Artist: Allison Kaufman is a photo and video artist living in New York City. She received her BFA in Film and Television Production from NYU's Tisch School of the Arts and her MFA in Photography, Video and Related Media from the School of Visual Arts. Her work has been exhibited throughout the US at the Moore College of Art and Design, Brooklyn Borough Hall, among others. She is currently a fellow at the Center for Emerging Visual Artists.
Guest Host: Kristin Marting is the co-founder and artistic director of HERE, which supports the work of artists at all stages in their careers through fully-produced works, commissions and subsidized performance and rehearsal space. At HERE, she cultivates artists and programs all events for two performance spaces with an annual audience of 30,000. She has constructed 25 works for the stage and was recently named a Person of the Year by nytheatre.com.
***
The Bronx (Air date: Monday, January 23, 9pm)

Episode: The Bronx is the next stop on Art/Trek NYC's journey to discover the next great New York City artist with the Bronx Museum's Bronx Biennial curator Wayne Northcross as a guide. Wayne introduces painter/multimedia/video artist Christopher Smith as they discuss the challenges of being a multimedia artist in today's art market. Viewers then watch them wrestle with displaying projection art in the ArtV.

Featured Artist: Christopher Smith, a New York artist, has performed in various group shows in centers, including EYEBEAM Arts and Technology Center in NYC and LEMUR in Brooklyn. He has shown video work and interactive sculpture at the Grace Space in Brooklyn and has installed Cutting In, a work from the Painter Project series at the Bronx Museum of the Arts. He often combines projected video into manufactured objects, marrying high technology with industrial mass produced materials. He received his MFA from Pratt Institute.

Guest Host: As a magazine editor, Wayne Northcross has produced art and fashion features for a range of lifestyle publications, such as Vogue Hommes, Esquire, Out and Gay City News. As an independent curator, he has organized exhibitions for the Fusebox Performance Festival in Austin, the Bronx Museum of the Arts, The Project, the Venetia Kapernekas Gallery and the Bronx Art Space.
***
Queens (Air date: Monday, January 30, 9pm)

Episode: Starting at the Queens Museum of the Arts, a lesser-known gem in New York's rich museum landscape, CJ joins the executive director of the Queens Council on the Arts, Hoong Yee Lee Krakauer. Together, CJ and Hoong Yee meet the art collaboration PEACOCK – also known as Sean Naftel and Chris Attenborough – and check out their unique style of installation art. How they install their work in Art/Trek NYC's ArtV will be anybody's guess.

Featured Artist: PEACOCK is a collaborative project between artists Chris Attenborough and Sean Naftel. Born in the US, both received their MFAs from the National University of Ireland Galway. PEACOCK has exhibited work in Ireland, Queens and throughout the US and was recently selected to participate in the Inaugural (e)merge Art Fair in Washington, DC; SEVEN Art Fair in Miami; and the Contemporary Museum in Baltimore. Both artists currently work and live in Queens.

Guest Host: Hoong Yee Lee Krakauer, a lifelong Queens resident, is the executive director of the Queens Council on the Arts and oversees all programmatic and fundraising activities. She is the recipient of several awards from the Municipal Art Society and the Mayor's Award for Arts & Culture. She has recently been appointed to the New York City Cultural Affairs Advisory Commission.
***
Staten Island (Air date: Monday, February 6, 9pm)

Episode: Art/Trek NYC's quest to unearth promising emerging artists ends in Staten Island, led by well-known choreographer and filmmaker Gabri Christa and her husband, legendary guitarist/musician Vernon Reid. There they introduce photographer Nicholas Fevelo and discover what the Islanders have to say about his work when the ArtV takes to the streets of the St. George neighborhood near the ferry terminal and the Staten Island Museum.

Featured Artist: Based in Staten Island, Nicholas Fevelo is a multi-disciplinary photographer, balancing journalism and conceptual artistic practice. His work is regularly published in several of New York City's largest newspapers, including the Daily News, the Wall Street Journal and the Staten Island Advance. As an award-winning photographer, he has been honored by the Society of Silurians and the National Headliner Awards. He received his BFA from the School of Visual Arts.

Guest Host: Gabri Christa is a choreographer and performer. She directs, choreographs, produces, writes and teaches on a per project basis. She has received many awards for her choreographies and short films, including a Guggenheim Fellowship for her choreography. Her film, High School, received an ABC TV award for creative excellence.

Guest Host: Guitarist and composer Vernon Reid founded multi-platinum, Grammy Award-winning rock band Living Colour. The band opened for the Rolling Stones in 1989. He has also engaged in a number of other projects, including recording solo and collaborative albums, organizing varied concert events, performing as a featured guitarist and composing for dance and film. He was also the recipient of the Mayor's Award for Arts & Culture in 2009.
***
Reunion (Air date: March 19, 9pm)

Episode: The first season of Art/Trek NYC ends at a well known art fair where, based on community and viewer response as well as their own reactions, the five borough guest hosts come together to debate which of the five artists previously showcased should move from the ArtV to a traditional gallery. Art/Trek NYC follows the selected artist as they install their first solo exhibition and prepare for opening night.
***
TUNE IN 

Art/Trek NYC airs Mondays at 9pm on NYC life (Channel 25), beginning on January 9. NYC life is available in the New York tri-state area on broadcast, cable and satellite channels. Visit nyc.gov/media for local cable and satellite listings. Art/Trek NYC will also be available to watch online on the NYC Media Video on Demand player – nyc.gov/vod and through the NYC Media app, available to download for free from iTunes. New episodes will be added each week.