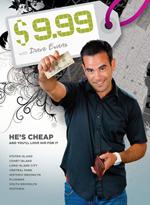 $9.99 FOR $9.99: NYC LIFE'S TV SERIES IN SEARCH OF AFFORDABLE THINGS TO DO IN THE CITY IS NOW AVAILABLE ON DVD AT CITYSTORE


December 7, 2012 - The newest season of $9.99 is now available on DVD, exclusive to CityStore, the official store of the City of New York. $9.99 with host Dave Evans features different places, food and New York City moments, all for under ten dollars. With a true five borough scope, $9.99 finds the best gems in the City – places, food and New York City moments with visits to Historic Downtown Brooklyn, Central Park, Flushing, Queens and more. Throughout the series, Dave channels his energy discovering all of New York's best-kept secrets, and he's doing it on the cheap.

$9.99 on DVD is now available for sale at CityStore, the official store of the City of New York, located in the Manhattan Municipal Building, 1 Centre Street, North Plaza. Eight episodes on two DVDS for $9.99. In the spirit of the series $9.99, CityStore also presents its own offering of gifts for $9.99 & Under, available in-store and online.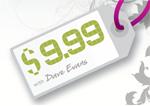 About Dave Evans
Born and raised in South Brooklyn, Dave Evans' connection to the outer-boroughs runs deep. Often called a jack-of-all-trades for his background as a musician, photographer, painter, cook and general inquisitiveness, Dave hosts $9.99 and New Dad City on NYC life.

About CityStore
As part of the City of New York, CityStore is the only place to offer New York treasures such as genuine taxi cab medallions, real NYC signs, and lucky NYPD horseshoes. From classic to fun, CityStore offers a wide variety of items including authentic NYC memorabilia and original and exclusive items available only at CityStore. Find a unique selection of books about New York and a wide range of publications issued by various City agencies detailing, analyzing and explaining specific areas of City government. CityStore is run by the Department of Citywide Administrative Services (DCAS). One hundred percent of all sales benefit the City of New York. Shop online at NYC.gov/citystore.

About NYC Media
Part of the Mayor's Office of Media and Entertainment, NYC Media is the official TV, radio and online network of the City of New York, informing, educating and entertaining New Yorkers about the City's diverse people and neighborhoods, government, services, attractions and activities. NYC life is available in the New York tri-state area on broadcast, cable and satellite channels. To learn more about the series, visit nyc.gov/media.