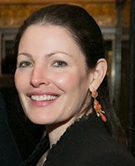 As Executive Director of the Van Alen Institute, Shamir-Baron led the national membership organization and fellowship research center in developing programs dedicated to promoting public architecture and improving civic life.
Named in honor of William Van Alen, architect of the landmark Chrysler Building, the Institute under Shamir-Baron's leadership, sponsored programs including competitions, exhibitions, forums, conferences and publications. Engaging an interdisciplinary and international array of practitioners, policy-makers, students and community leaders, Shamir-Baron established the New York Prize Fellowship program dedicated to diverse investigations related to public architecture.
Prior to her work at Van Alen, Shamir-Baron served as the Dean of Undergraduate Studies at the California College of the Arts where she directed the fine arts, design, architecture and visual criticism school divisions. As a member of the College's senior administration team, Shamir-Baron was charged with the management of seventeen academic programs. Shamir-Baron has taught architecture, design and theory courses at CCAC, Rice University, U.C. Berkeley, and the College of Marin, Kentfield.
Her historical research and writing explores early Modernist architectural themes in diverse cultural heritage contexts that focus on 'public architecture' -- the intersection of civic life and public works / infrastructure, with contributions to international architectural journals as well as published books including Open House: Unbound Space and the Modern Dwelling, and the upcoming After Infrastructure: City as Frontier.
Shamir-Baron holds a Bachelor of Architecture degree from the Cooper Union, a Master of Architecture degree and a PhD in the History of Architecture from University of California, Berkeley. Shamir-Baron is a former member of the Board of Trustees of the Brooklyn Academy of Music in NY. She is an appointed commissioner of U.S. National Commission for UNESCO.