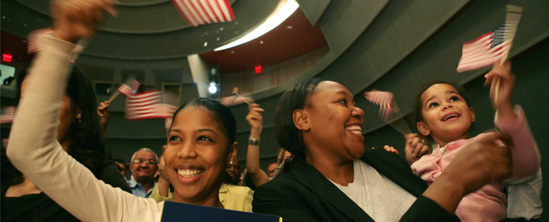 NYCitizenship in Schools provides free immigration information, assistance and financing options to eligible parents of students in the city's public schools who are lawful permanent residents and seeking to begin the application process to become U.S. citizens.
In order to apply for U.S. Citizenship, you must meet the following requirements:
Reside in the United States as a permanent resident for five years (three years if living with and married to the same U.S. citizen)

Live in the United States for half of the five or three year period

You are at least 18 years old
Documentation:
Green card and all passports since obtaining green card

Home addresses for the last five or three years

Children's information (date of birth, A#, addresses)*

Employment history for the last five or three years*

Marital history/criminal history*
*(If applicable)
Applicants pay a $680 filing fee to USCIS. A fee waiver or micro-loan option may be available.
Fee Waiver Application
A fee waiver is available to those that are unable to pay for the $680 filing fee. To qualify, you must prove "inability to pay" by showing the government that you receive public benefits, that your household income is 150% below the federal poverty guidelines, and/or that you have extraordinary expenses that make it impossible to pay the fee.
Documentation:
Copy of award letter from the state or federal agency granting the benefit, e.g., SSI award letter and/or budget letter (if applicable)

Copy of rental lease or notarized rental agreement with monthly receipts

Copies of utility bills (electricity, cable and phone)

Copy of IRS tax returns for the most recent tax year

Bank statements for the past three months

Copy of Medicaid and/or Medicare Cards (if applicable)

Child support letter (if applicable)

Child school letter (if applicable)

Custody order showing that the child lives with you (if applicable)
Microloans Available to Eligible Participants
A low-interest microloan in the amount of $680 (the cost of the USCIS application fee) is available to those who successfully complete their naturalization application at a service event through the NYCitizenship in Schools program. This loan opportunity is available through the City's partnership with two local community development credit unions, the East River Development Alliance Federal Credit Union.
Please visit us again for updates on future service events in your neighborhood.
More Information (from CUNY Citizenship Now!)
Citizenship Application Documents
FAQ's About Becoming A United States Citizen
Steps to Naturalization
Naturalization Requirements