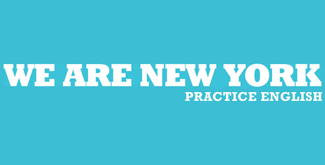 We Are New York (WANY) is an Emmy Award-winning half-hour TV show that airs on Time Warner Cable Channel 25 (or Cablevision Channel 22) Mondays at 12:30 pm and Sundays at 3:00 pm.  You can also watch on Time Warner Cable Channel 74 Fridays at 10:00 pm and Sundays at 1:00 pm.
Each episode has a different story of immigrants living in New York City. They show how New Yorkers can work together to solve problems and create better lives for themselves. The stories capture the spirit of people who have come from all over the world to make the Big Apple their home. We Are New York is intended to help people practice English that will be useful to them. Realistic situations are used; for example, going to the doctor or talking with a child's teacher.
The WANY Project organizes free conversation groups across the city. Volunteer language leaders are trained and placed at community organizations, and they use the show to help immigrants practice their English.
We Are New York was created by the Mayor's Office of Adult Education and the City University of New York, Office of Academic Affairs and is now housed at the Mayor's Office of Immigrant Affairs.
Learn more about WANY