Final Report: December 2013
Download Report

Through partnerships for public programming:
OVER 65,000 PARTICIPANTS HAVE BEEN ENGAGED
NEARLY 10,000 VOLUNTEER HOURS have been dedicated to support greater impact and opportunity for communities
OVER 700 COMMUNITY OUTREACH EVENTS were held in partnership with various community partners
OVER 380 IMMIGRANT LEADERS have received leadership training
OVER 75 MICRO-GRANTS have gone to support innovative solutions to community challenges
HUNDREDS OF STRATEGIC PARTNERSHIPS have been formed among and across New York City's communities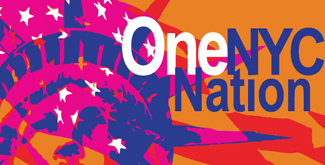 One NYC One Nation brought together New York City's philanthropic, public and community leadership to strengthen immigrant communities by collaborating and leveraging resources, programs and opportunities throughout the City.
A series of One NYC One Nation projects and programs, designed and developed by the One NYC One Nation Steering Committee of civic and community leaders, was rolled out in a two-year timeframe. One NYC One Nation projects were developed in each of the City's five boroughs in the following program areas:
Civic Leadership & Community Bridge Building
Projects in this area built and supported networks for emerging immigrant leaders and promoted interactions that increased access to city government and civic participation of immigrant communities through leadership development.
Know Your Rights and Responsibilities Forums
The Mayor's Office of Immigrant Affairs leads Know Your Rights and Responsibilities Forums to highlight available city services and present opportunities for community engagement. The forums are planned in collaboration with a community organization or leader and connect communities to city agencies based on expressed needs and concerns. Forums educate and build capacity regarding important topics such as education, safety, health, and financial empowerment. Thus far over 150 forums have been held, serving over 5,800 community members.
Neighborhood Leadership InstitutesNeighborhood Leadership Institutes
The Neighborhood Leadership Institutes, in partnership with Citizens Committee for New York City, offer free skill-building workshops for emerging immigrant leaders in all five boroughs. The workshops cover navigating city government, the fundamentals of organizing communities, grassroots fundraising, and networking with local leaders. More than 85 community leaders participated, and upon completion of the workshops groups were invited to apply for micro-grant funds to undertake a community improvement project.
Immigrant Civic Leadership Program (CORO NY)
40 emerging immigrant leaders were selected for a special 6-month leadership training program in partnership with the CORO New York Leadership Center, where they gained the skills to effectively change their organizations and communities and collaborate on community development proposals with mentorship from Coro's diverse and influential alumni network. Coro seeks to identify a new wave of leaders in immigrant communities who have ideas for reshaping their neighborhoods to better suit the changing populations.
UnityNYC Grant Awards
The inaugural UnityNYC Grant Awards is a micro-grant program designed to engage New York City's diverse communities to do their part in building a more resilient City. This will provide up to $3,000 to faith-based or neighborhood-based immigrant and non-immigrant groups, enabling residents to give back by implementing effective community collaboration projects. UnityNYC Grant Awards will proactively address critical needs and promote opportunities that directly contribute to the public good.

Read Press Release
The Queens Fellowship
In partnership with JCRC/CAUSE NY, The Queens Fellowship connects 26 mid- to senior-level professionals with fellow leaders and experts in the nonprofit, faith, government and community worlds. Through 9 months of Queens-focused skill-building seminars and professional development, fellows will focus on the following objectives: networking & self-marketing, partnership building, leadership & professional skills, community awareness, and cross-cultural communications.
Education & Economic Opportunity
Projects in this area will strengthen immigrant communities by increasing access to information about government services, expanding opportunities for economic security, and building capacity to better integrate the fastest-growing immigrant communities.
Financial Literacy
In partnership with the Office of Financial Empowerment at the Department of Consumer Affairs, MOIA provided eight scholarships to community-based organizations to complete a CUNY Personal & Consumer Finance course, increasing linguistically and culturally competent access to financial literacy in immigrant communities. The Office of Financial Empowerment conducted an immigrant banking practices survey in targeted Mexican, Ecuadorian, and Fujianese communities to better understand and improve financial skills.
College Readiness
The Mayor's Office of Immigrant Affairs will partner with New York Cares and the Goddard Riverside Community Center to provide FAFSA application assistance to immigrant families with children in New York City public high schools. Project volunteers will be trained to help immigrant families navigate the financial aid process and identify the various forms of aid for which they are eligible.
Press Release
April 11, 2011 - Mayor Michael R. Bloomberg, Commissioner of Immigrant Affairs Fatima Shama, The New York Community Trust President Lorie Slutsky, and One Nation Foundation President Henry Izumizaki today kicked-off Immigrant Heritage Week with the launch of One NYC One Nation, a citywide civic engagement initiative for immigrant New Yorkers.
Read the press release
Read the New York Times article