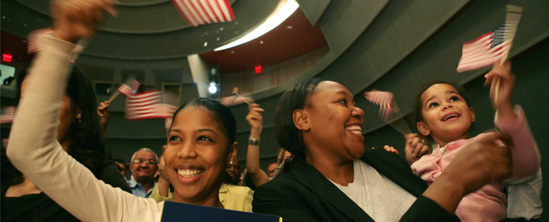 NYCitizenship in Schools provides free immigration information, assistance and financing options to eligible parents of students in the city's public schools who are lawful permanent residents and seeking to begin the application process to become U.S. citizens.
Parents will be notified about information sessions and service events through school outreach.
All information is free and confidential.  In order to be eligible, you must be a Lawful Permanent Resident with a child in a New York City public school and meet certain other criteria.
Past service events:
October 27, 2012 - BRONX
Morris Educational Campus
(Bronx International High School, School for Violin and Dance, School for Excellence, and Morris Academy for Collaborative Studies)
December 8, 2012 - MANHATTAN
Gregorio Luperon High School for Science and Mathematics
December 15, 2012 - QUEENS
Newcomers High School
January 26, 2013 - STATEN ISLAND
Curtis High School
February 23, 2013 - BROOKLYN
Erasmus Educational Campus
March 9, 2013 - Bronx
Hostos Community College
March 23, 2013 - QUEENS
La Guardia Community College
April 6, 2013 - QUEENS
La Guardia Community College
April 13, 2013 - BROOKLYN
Medgar Evers College (Gym)
May 18, 2013 - BROOKLYN
P.S. 503/506
June 15, 2013 – QUEENS
Newtown High School
Upcoming Events
Saturday, July 13th - BROOKLYN
Brooklyn College - 2nd Floor, Student Center
East 27th Street and Campus Road, Brooklyn NY 11210
This will be our last event
The form must be filled out for EACH PERSON planning to attend a service event.

Register for a Service Event
More information:
Eligibility Requirements
NYCitizenship in Schools is a coordinated effort between:
Mayor's Office of Immigrant Affairs
Department of Education 
Office of Financial Empowerment
United States Citizenship & Immigration Services
City University of New York Citizenship Now!
East River Development Alliance
Neighborhood Trust Federal Credit Union
*Funding for this project was generously provided by Citi Community Development
Read the Press Release (En español)
View the photos
Watch the video 

Other Press Coverage:
Asian Journal
New York 1 
El Nuevo Herald
Univision
El Diario NY
Marti Noticias 
Hoy 
Alegrie Patriotique 
Le Nouvel Observat