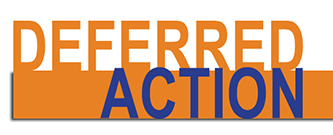 On June 15, the Obama Administration announced a deferred action process for certain undocumented young people living in the United States. Deferred action will allow some undocumented young people to get temporary protection against deportation and to get working papers for a period of up to two years.
In order to be eligible for deferred action, individuals must:
Have come to the United States under the age of sixteen;

Have continuously resided in the United States for at least five years preceding June 15, 2012 and are present in the United States on June 15, 2012;

Currently be in school, have graduated from high school, have obtained a general education development certificate, or are honorably discharged veterans of the Coast Guard or Armed Forces of the United States;

Have not been convicted of a felony offense, a significant misdemeanor offense, multiple misdemeanor offenses, or otherwise pose a threat to national security or public safety;

Not be above the age of thirty.
On August 15, 2012 the US Citizenship and Immigration Services (USCIS) began accepting applications for deferred action for childhood arrivals. 
About Deferred Action for Childhood Arrivals via USCIS
uscis.gov/childhoodarrivals 

Mayor's Office Press Release

Free & Low Cost Legal Service Providers
CUNY Citizenship Now! 
New York State Immigration Hotline: 800-566-7636
US Department of Justice Free Legal Service Providers