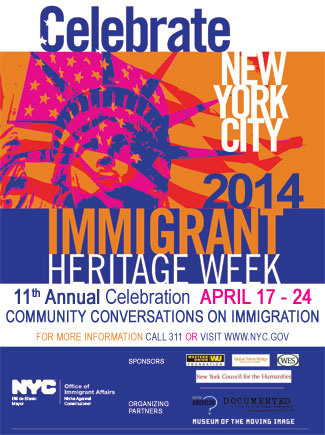 Immigrant Heritage Week, established in 2004, celebrates the histories and contributions of New York City's diverse immigrant communities. This year, Immigrant Heritage week, celebrated from April 17 to April 24 marks the 11th annual weeklong celebration.
Join us at the Screening and Panel Discussion of "Documented" on Thursday, April 17, 7:00 p.m. at the Museum of Moving Image.
Introduced by Melissa Mark-Viverito, Speaker of the NYC Council, and followed by a panel discussion with Jose Antonio Vargas, writer/director of Documented, Paolo Mendoza, Filmmaker, and Nisha Agarwal, Commissioner, NYC Mayor's Office of Immigrant Affairs
In 2011, Pulitzer Prize-winning journalist Jose Antonio Vargas outed himself as an undocumented immigrant in an essay published in the The New York Times Magazine. Documented chronicles his journey to America from the Philippines as a child; his journey through America as an immigration reform activist; and his journey inward as he reconnects with his mother, whom he has not seen in person in over 20 years. Dirs. Jose Antonio Vargas, Ann Raffaela Lupo. 2014, 89 mins. Digital projection. With Emelie Salinas, Leonila Salinas, Jose Antonio Vargas. The screening will be followed by a panel discussion.
For more information click here

Sign up for a Community Conversation
From New Netherland to New York, immigrants from every part of the world have made their home in our state. The New York Council for the Humanities' Community Conversations invites New Yorkers to explore our shared history as immigrants and the descendants of immigrants, and to discuss the ways that immigration continues to shape the experience of being American today. Each conversation uses a short text as a starting point for discussions about cultural understanding and our roles as active citizens in a diverse and democratic society.
All of the toolkits contain everything you need to host these "do-it-yourself" discussions, including: texts suitable for each audience; a set of sample questions; guidelines for starting and sustaining good conversations; tips for hosting a conversation; and a sample participant evaluation. Anyone can register and download the toolkits for free from our website, and tax-exempt organizations may eligible to receive a $200 stipend from the Council.
To Sign Up for a Community Conversation Click Here