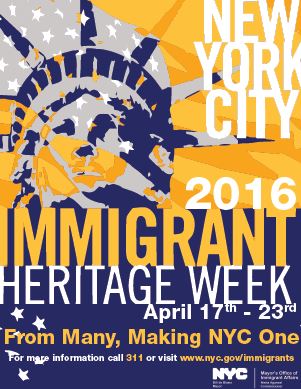 Immigrant Heritage Week 2016
In response to Executive Order 128 signed in 2004, MOIA celebrates Immigrant Heritage Week (IHW) from April 17th - 23rd, an annual citywide program of events designed to recognize and celebrate the history, traditions and contributions of NYC's diverse immigrant communities. The selected dates are in recognition of April 17, 1907 when more immigrants entered the U.S. through Ellis Island than any other date in history.
This year's theme for Immigrant Heritage Week is:
IHW 2016: From Many, Making NYC One.