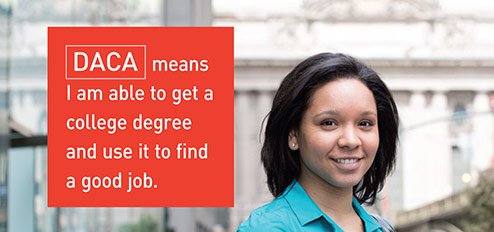 You must renew DACA two years after your application was approved.
To ensure that your renewal is processed before your DACA status expires, you should submit your renewal application about 120 days (4 months) before your expiry date, but not more than 150 days (5 months) before. If you submit your renewal application too close to your expiry date, there is a risk that your renewal may not be processed by USCIS until after your DACA status expires.
United States Citizenship and Immigration Services (USCIS) released a new DACA application and renewal form on June 5, 2014. It is the only version the USCIS will accept. Renewal applicants should not fill out Part 3 of the form, and should not submit any new evidence regarding the education or military service requirement.
You will need to filed two three forms in total:
Consideration of Deferred Action for Childhood Arrivals (I-821D)
Application for Employment Authorization (I-765)
Employment Authorization Worksheer (1-765W)
Am I eligible for renewal?
To be eligible for renewal, you must have been granted DACA and continue meeting the guidelines for DACA. You must also meet the following requirements:
You must NOT have departed the United States on or after August 15, 2012, without first having been granted advance parole.
You must have resided continuously in the U.S. from the time you submitted the initial request for DACA up until the present.
You must not have been engaged in criminal activity that would disqualify you from DACA since your last request.
For help understanding these requirements in your case, contact a free legal service provider.
For your DACA renewal application, you will again need to complete the biometrics (fingerprint and photo) requirement and pay the $465 application fee for the renewal. Loans and grants may be available to assist you, so please check with your legal service provider. In certain cases, USCIS may waive the fees. On June 4, 2014, USCIS announced that the major medical expenses fee waiver requirement has been reduced to $10,000. Other fee waiver rules remain the same.
Information on DACA renewals may be found here.
La información en español es disponible aquí.
I did not renew my DACA application in time. What do I do now?
If you fail to file for renewal before your DACA status expires, you may still file as a renewal if applying again within 1 year of expiry. If more than 1 year has elapsed, you must file as a new applicant and re-submit all the evidence required of new applicants.
To learn more about filing for renewal, please contact one of the many free legal service providers available. You may find a list here or enter your zip code below to find the most convenient legal service provider for you.