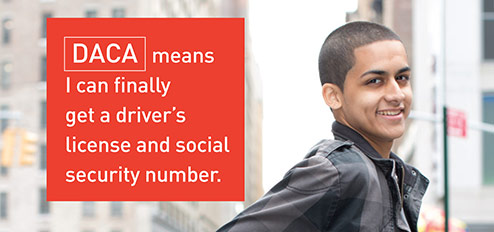 How can I get free legal and financial assistance to help me apply for DACA?
Financial assistance
There is a $465 fee to apply for DACA but in some instances financial help is available.

The NYC DREAMer Loan Fund provides no-interest loans to cover DACA application fees. DACA applicants and their families also gain access to free financial counseling, tax preparation and other services at not-for-profit community credit unions. Click here to learn more !
Free legal assistance
You may screen yourself for eligibility but you do not have to apply for DACA on your own. FREE legal service providers are available to check your qualifications and will not expose your status or the status of your family members. You may find a list of free legal services below.
BEWARE! Do not trust notarios or other businesses promising a green card or U.S citizenship through DACA. DACA is not a pathway to citizenship, but allows you to be protected from deportation and obtain work authorization for up to two years. Click here to learn more about avoiding immigration services scams .
Enter your zip code below to find the most convenient legal service provider for you:
The following organizations provide immigration legal assistance to individuals seeking deferred action:
Some organizations may be able to provide some financial assistance to cover the USCIS application filing fee – please discuss this with the organization you contact to see if help is available and whether you qualify.
Bronx
BronxWorks (Grand Concourse)
Monday-Friday 9:00am-5:00pm
Wednesday 11:00am-7:00pm
(718) 731-3114
Languages spoken: English, Spanish, Chinese
www.bronxworks.org
Emerald Isle Immigration Center (Wakefield)
Monday-Wednesday 9:00am- 5:00pm
Thursday 9:00am- 8:00pm
Friday 9:00am-3:00pm
2nd Saturday of each month 9:00am-3:00pm
(718)324-3039
Languages spoken: English, Spanish
www.eiic.org
Brooklyn
Brooklyn Defender Service (Downtown Brooklyn)
Monday-Friday 9:00am- 5:00pm
(718) 254-0700
Languages spoken: English, Spanish, Haitian Creole
www.bds.org
CAMBA (East Flatbush)
Monday-Friday 9:00am- 5:00pm
(718) 565-8500
Languages spoken: Spanish, English, Haitian Creole, French
www.camba.org
Catholic Migration Services (Bay Ridge)
Monday-Friday 9:00am- 5:00pm
(718) 236-3000
Languages spoken: English, Spanish, Haitian Creole, Albanian, Italian, Greek
www.catholicmigration.org
Central American Legal Assistance (Bushwick)
Monday-Friday 9:00am-5:00pm
(718) 387-7879
Languages spoken: English, Spanish
www.centralamericanlegal.info
Make The Road New York-Brooklyn (Bushwick)
Monday-Friday 9:30am- 6:00pm
(718) 656-8500
Languages spoken: English, Spanish
www.maketheroadny.org
New York Asian Women's Center (Boerum Hill)
Wednesday-Thursday 9:00am- 5:00pm
Friday 9:00am- 12:00pm
(212) 732-0054
Languages spoken: Mandarin, Hindi, Korean, Cantonese, Japanese, Vietnamese
www.nyawc.org
Safe Horizon (Brooklyn Heights)
Monday-Friday 9:00am- 5:00pm
(718) 943-8632
Languages spoken: English, Spanish, French
www.safehorizon.org
Shorefront Jewish Community Council (Brighton Beach)
Monday-Friday 9:00am- 5:00pm
(718) 743-0575
Languages spoken: English, Spanish
www.shorefrontjcc.org
Manhattan
New York Asian Women's Center (Lower Manhattan)
Wednesday-Thursday 9:00am- 5:00pm
Friday 9:00am- 12:00pm
(212) 732-0054
Languages spoken: Fuzhounese, Mandarin, Japanese
www.nyawc.org
Northern Manhattan Improvement Corp (Washington Heights)
Monday-Friday 9:00am- 5:00pm
(212) 822-8310
Languages spoken: English, Spanish
www.nmic.org
HANAC (Harlem)
Monday-Thursday 5:00pm- 8:30pm
(212) 996-3949
Languages spoken: English, Spanish
www.hanac.org
International Rescue Committee (Midtown)
Monday-Friday 9:00am- 5:00pm
(212) 377-4749
Languages spoken: English, French, Hindi, Italian, Mandarin, Spanish, Urdu, Arabic
www.rescue.org
New York Legal Assistance Group (Lower Manhattan)
Monday-Friday 9:00am- 5:00pm
(212) 613-6597
Languages spoken: Polish, Portuguese, Swedish, Tagalog, Urdu, Yiddish, English, Spanish, Russian, Albanian, Bengali, Cantonese, French, Greek, Hindi, Hebrew, Italian, Korean, Mandarin
www.nylag.org
Northern Manhattan Coalition for Immigrant Rights (Washington Heights)
Monday-Friday 8:00am- 5:00pm
(212) 781-0355
Languages spoken: English, Spanish, French
www.nmcir.org
The Door-A Center of Alternatives (Lower East Side)
Monday-Friday 9:00am- 8:00pm
(212) 941-9090
Languages spoken: English, Spanish
www.door.org
The Legal Aid Society (Lower Manhattan)
Monday-Friday 9:00am- 5:00pm
(212) 577-3292
Languages spoken: English, Spanish, Chinese, French, Creole
www.legal-aid.org
Catholic Charities Community Services (Lower Manhattan)
Thursday 8:30am- 11:00am
(212) 419-3700
Languages spoken: English, Spanish, French, Italian, Polish, Albanian, Romanian, Japanese
www.catholiccharitiesny.org
Queens
AIDS Center of Queens County (Jamaica)
Monday-Friday 9:00am- 5:00pm
(718) 896-2500
Languages spoken: English, Spanish
http://www.acqc.org/
CIANA (Astoria)
Monday-Friday 10:00am- 6:00pm
Thursday 10:00am- 8:00pm
(718) 545-4040
Languages spoken: Arabic, Bengali, English, French, Hindi, Spanish, Urdu
www.cianainc.org
Catholic Migration Services (Woodside)
Monday-Friday 9:00am- 5:00pm
(347) 472-3500
Languages spoken: English, Spanish, Haitian Creole, Greek, Italian, Albanian, Arabic
www.catholicmigration.org
Emerald Isle Immigration Center (Woodside)
Monday-Wednesday 9:00am- 5:00pm
Thursday 9:00am- 8:00pm
Friday 9:00am- 3:00pm
2nd Saturday of each month 9:00am- 3:00pm
(718) 478-5502
Languages spoken: English, Spanish
www.eiic.org
Jacob Riis Settlement (Astoria)
Monday-Friday 8:30am- 9:00pm
Saturday 10:00am- 3:00pm
(718) 784-7447
Jacob Riis Settlement I.S. 126
Tuesday- Thursday 6:00pm-9:00pm
(718) 784-7447
Languages spoken: English, Arabic, Spanish, French
www.riissettlement.org
Make the Road New York-Queens (Jackson Heights)
Monday-Friday 9:30am – 6:00pm
(718) 565-8500
Languages spoken: English, Spanish
www.maketheroadny.org
New York Asian Women's Center (Elmhurst)
Wednesday-Thursday 9:00am- 5:00pm
Friday 9:00am- 12:00pm
(212) 732-0054
Languages spoken: Bengali, Cantonese, Marathi
www.nyawc.org
HANAC (Astoria)
Every other Saturday 9:30am – 3:30pm
(718) 528-3586
Languages spoken: English, Spanish, Greek
www.hanac.org
Staten Island
Make the Road New York-Staten Island (Port Richmond)
Monday-Friday 9:30am- 6:00pm
(718) 727-1222
Languages spoken: English, Spanish
www.maketheroadny.org
Safe Horizon (St. George)
Monday-Friday 9:00am- 5:00pm
(718) 943- 8632
Languages spoken: English, Spanish
www.safehorizon.org