Industrial Business Areas
Sixteen of the most productive manufacturing zones in the City have been designated Industrial Business Zones (IBZs), and several others Industrial Ombudsmen Areas. These areas foster high-performing business districts by creating competitive advantages over locating in areas outside of New York City.
The IBZs and Industrial Ombudsmen Areas are shown below. Click on any zone name to find more detailed information about the zone, including detailed area maps and full lists of included blocks and lots. For a full explanation of the incentives and other benefits of locating in an Industrial Business Zone, check out the detailed IBZ Benefits page.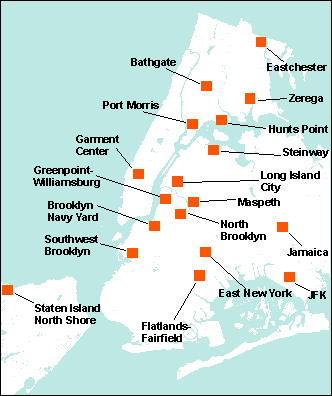 The zones are target areas for several new initiatives:
Industrial Business Solutions Providers and Services
Each IBZ and Ombudsmen Area is served by its own individual Industrial Business Solutions Provider (IBSP). These IBSPs offer industrial firms free, quick and reliable answers to a broad range of business questions. To find the IBSP your area, click on the appropriate area on the map above. To see the complete list of IBSPs, please click here.
Creating Real Estate Certainty
Additionally, in the IBZs, the Bloomberg Administration has guaranteed not to support the rezoning of industrial property for residential use. This alleviates real estate uncertainty. Additionally, the City is currently pursuing strengthened enforcement of policies to prevent the illegal conversion of buildings.
Relocation Tax Credit
A one-time tax credit of $1,000 per relocated employee is available to help industrial and manufacturing firms that relocate to one of the City's sixteen IBZs. For more information about the details and restrictions of the tax credit, please check out the IBZ Benefits page.