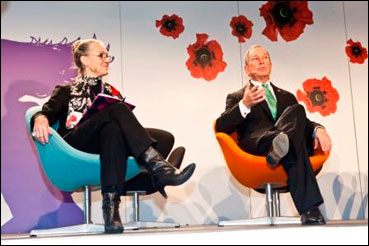 Mayor Michael R. Bloomberg and Lord Mayor of Copenhagen Ritt Bjerregaard, Copenhagen Climate Summit for Mayors, December 15, 2009. (Photo Courtesy of City of Copenhagen)
New York City Global Partners' online resource bank of global cities' best practices now features reports on the innovative climate change solutions presented at the 2009 Copenhagen Climate Summit for Mayors.
The summit showcased ten cities tackling climate change through forward-thinking initiatives in many areas-lighting, solar energy, waste and recycling, transportation and buildings. The cities highlighted are Barcelona, Copenhagen, Jakarta, Johannesburg, London, Los Angeles, Mexico City, New York City, Sao Paulo and Toronto.
Mayor Michael R. Bloomberg addressed nearly 80 international mayors attending the summit, underscoring the need for cities to act now to address the challenges of climate change. Mayor Bloomberg highlighted New York City's efforts, including the recent passage of landmark legislation that will reduce greenhouse gas emissions from existing government, commercial and residential buildings in New York City.
Energy efficiency was a key concept for many of the cities. Toronto air conditions downtown buildings using cool water from Lake Ontario. Copenhagen uses recycled heat from waste incineration and power plants to heat 97% of buildings in the city. Barcelona has mandated that new buildings use solar energy to heat 60% of their water. Los Angeles is upgrading its 140,000 streetlights to LED technology-the largest street lighting retrofit project ever undertaken by a city.
Sao Paulo highlighted its landfill emissions control program, which generates critical revenue from the sale of carbon credits. London showcased its efforts to promote electric vehicles. Johannesburg has launched the first bus rapid transit system in South Africa. Mexico City launched a Sunday bike program, as part of its greater mobility strategy and Jakarta is developing new carbon finance projects.
Reports on these innovative initiatives are now accessible on the Global Partners' Innovation Exchange website. Each downloadable report provides background information on implementation strategies and success metrics.
Through the Innovation Exchange website, policymakers can learn about successfully implemented initiatives from cities around the world. The website features 31 best practice reports from New York City in 21 policy areas, from affordable housing and health to culture and education.
To access best practice reports, visit the NYC Global Partner Innovation Exchange website at www.nyc.gov/globalpartners/innovationexchange.