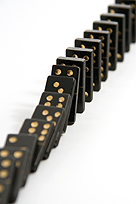 Committing fraud or causing waste in public assistance programs has many consequences. Globally, it costs taxpayers money and it prevents resources from going to those required by city, state, and federal laws and regulations. On an individual level, there are many consequences for the perpetrators of fraud and abuse in our systems:
Criminal Penalties: Committing fraud to obtain or derive benefits from a public assistance case has criminal consequences, and may result in jail time. Our agency routinely works with prosecutors to ensure those who defraud the program are punished to the extent provided by law.
Civil Liability: Receiving a benefit to which you are not entitled may not result in criminal prosecution, but that does not mean it exempts the actor from civil and financial liability. HRA's Office of Legal Affairs attorneys work with our agencies to recover money from those who inappropriately receive benefits from public assistance.
Case Closures: In addition to the above consequences, we work with HRA's eligibility determination divisions to close public assistance cases once we receive and verify information demonstrating a client's ineligibility.
Administrative Penalties: We work with the New York State Office of Temporary Disability Assistance to obtain Intentional Program Violations (IPV) against clients who violate program rules; these IPVs prevent this person from rejoining public assistance programs for certain time periods. In egregious and/or repeated cases, the person will be barred for life.
Medicaid Restriction: As part of providing quality care, in addition to preventing fraud and abuse for eligible Medicaid recipients, we work with the New York State Office of the Medicaid Inspector General to restrict certain recipients to one primary care doctor and one pharmacist.



This provides continuous, but controlled quality of care for individual caught convincing several doctors to prescribe multiple high-cost or high-potency drugs (e.g., painkillers).


This also helps ensure that Medicaid recipients living with HIV/AIDS will not sell their live-sustaining medication, even when they are in unstable financial situations.

Provider Sanctions & Exclusion: We routinely work with the state and federal governments to sanction and/or exclude medical providers and retailers who violate the rules of the Medicaid and Supplemental Nutrition Assistance Programs.
If you or someone you know has committed public assistance abuse or fraud, or if you have questions about such abuse or fraud, please contact Welfare Fraud NYC.