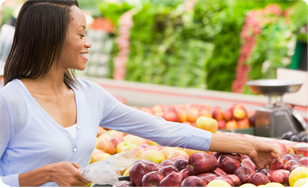 Where can I find a SNAP Center?
SNAP Centers. Visit FoodHelp.nyc for a map of SNAP centers and other food assistance resources.
Who is eligible for SNAP Benefits?
Households must meet eligibility requirements and provide proof of their statements about household circumstances. For most households, eligibility to receive benefits is based on household size, income and some household expenses. Find out if you may be eligible for SNAP Benefits.
Use the Food SNAP Calculator to see if your household may be eligible for SNAP benefits.
How do I apply for SNAP benefits?

Step 1. Get an application.
To find out if you qualify and apply online, go to NYC.gov/ACCESSNYC. You can also download an application; pick one up at your local SNAP Center; call to have one sent to you by mail; or have someone pick one up for you at a local SNAP Center.

Step 2. Fill out the application.
Anyone may fill out an application. Answer as many questions as you can. If you need help filling out an application, please ask for help at your local SNAP Center.

Step 3. Submit your application.
Submit the completed application to your local SNAP Center. The completed application and the required documentation can be submitted in person, by mail or by fax to your local SNAP Center.
If you go to the local SNAP Center to pick up an application, you have the right to submit your application the same day, and you will be screened to see if you may be eligible for Expedited Processing.

Step 4. Set up an interview.
At your interview, you will need to show us a variety of documentation to prove your identity and circumstances.
What should I bring to the interview?
Proof of identity (driver's license, ID card)
Proof of address, unless you are homeless (apartment or house lease, electric, gas, water or phone bill, rent book or receipt, or mortgage statement)
Social Security numbers of everyone you are applying for. If you do not have a number, you will have to apply for one.
Proof of the amount of all earned and unearned income before taxes or deductions (pay stubs for the past month or two, employer wage statement, benefits letter from
Social Security unemployment compensation, Veterans Administration or pensions).
Household composition
Proof of shelter costs. If you want us to count your actual utility expenses, you will have to verify them.
Proof of immigration status for non-citizens who are applying for
SNAP Benefits (you do not have to provide any immigration information on people who are not applying for SNAP Benefits).
Proof of child support payments you make if you want us to consider the amount you pay (support order, separation agreement, child support records).
Proof of out-of-pocket medical expenses if you are age 60 or older or receive federal disability benefits (doctor or hospital bills; prescription receipts, receipts for over-the-counter medical expenses if prescribed by a medical practitioner; transportation costs to get to medical care)
Proof of child care expenses if you are working or looking for work or in training.
What items can be purchased with SNAP Benefits?
Food or food products meant to be eaten by people
Vegetable seeds and food-producing plants, roots, and trees for family consumption
Baby formula, diabetic and diet foods
Edible items used in preparing or preserving food such as spices, herbs, pectin and shortening
Water and ice labeled for human consumption
Snack foods
What items cannot be purchased with SNAP Benefits?
Prepared hot foods in grocery stores
Any prepared food (hot or cold) sold and meant to be eaten at the store
Alcoholic beverages and tobacco
Cleaning products, paper products, toiletries, and cooking utensils
Pet supplies
Items for food preservation such as canning jars and lids, freezer containers, or food wrapping paper
Medicines, vitamins or minerals
Items for gardening such as fertilizer and peat moss
You may be able to get Expedited Processing.
In accordance with Federal Law and U.S. Department of Agriculture (USDA) policy, this institution is prohibited from discriminating on the basis of race, color, national origin, sex, age, religion, political belief, or disability. To file a complaint of discrimination write USDA, Director, Office of Civil Rights, Room 326-W, Whitten Building, 1400 Independence Avenue, S.W., Washington, D.C. 20250-9410 or call (202) 720-5964 (voice and TDD). USDA is an equal opportunity provider and employer.