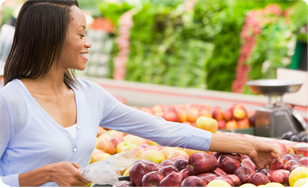 The Supplemental Nutrition Assistance Program, food pantries, community kitchens, and other resources can help you and your family and are available throughout New York City.
Visit FoodHelp.nyc to watch the stories of five New Yorkers who get help from SNAP.

Supplemental Nutrition Assistance Program
The Supplemental Nutrition Assistance Program (formerly known as Food Stamps) provides food assistance for nearly 1.8 million low-income New Yorkers including families, the elderly and the disabled. The primary goal of the program is to help families supplement the cost of their diet with nutritious foods. New York City encourages using SNAP benefits to make healthier choices by purchasing fruits, vegetables and other nutritious items.
By using a debit card, you can spend your SNAP benefits and help stretch your dollars. SNAP benefits can be used at many locations, including supermarkets, most farmers markets, and some Green Carts.
Many people don't know they are eligible for SNAP benefits. The only way to know is to apply. You can own your own home or car, have money saved, or be an immigrant and still be eligible for SNAP. Each application is evaluated on an individual basis and qualifying is based on income.
If you are eligible for SNAP, you will receive benefits within 30 days. In some cases, emergency benefits can be issued sooner.
Applying is Easy
You can also file an application for SNAP at a community organization in your neighborhood. A staff of experts is available to assist you with submitting your application, as well as the necessary documents. You can also ask for a telephone interview with HRA to complete the process at the time of your visit. Then, you can stop by your local SNAP office to quickly confirm your identity. Go to 311 Online to find out where you can locate non-profits and community based organizations in all five boroughs that can help you with your application.
If you apply for Cash Assistance at a Job Center, your SNAP application can be taken at the same time.
Certain households receiving Social Security Income and unable to travel by public transportation can have the Social Security Income SNAP Center process their applications by mail.

You or other employable household members may be required to participate in the SNAP Benefits Employment and Training Program. Job searches will be stressed and training may be made available.

In accordance with Federal Law and U.S. Department of Agriculture (USDA) policy, this institution is prohibited from discriminating on the basis of race, color, national origin, sex, age, religion, political belief, or disability. To file a complaint of discrimination write USDA, Director, Office of Civil Rights, Room 326-W, Whitten Building, 1400 Independence Avenue, S.W., Washington, D.C. 20250-9410 or call (202) 720-5964 (voice and TDD). USDA is an equal opportunity provider and employer.

Emergency Food Assistance Program
The New York City Emergency Food Assistance Program helps to supply food to more than 550 food pantries and community kitchens throughout the City.

If you need food immediately, go to 311 Online. 311 Online will tell you where you can go, no matter where you are. There are locations throughout the five boroughs.

Health Bucks
Health Bucks, worth $2 each, can be used to purchase fresh fruits & vegetables at participating farmers markets. If you use SNAP, you will receive a Health Bucks for every $5 you spend at the farmers market. View our list of locations (in PDF) to see where you can find and use Health Bucks. Learn more about the Health Bucks program (in PDF). Visit the Health Bucks page on the NYC Department of Health and Mental Hygiene's website.
The Supplemental Nutrition Assistance Program is administered by HRA's Family Independence Administration (FIA), which coordinates HRA's Job and Supplemental Nutrition Assistance Program centers and employment programs to help New Yorkers in need move toward self-sufficiency.
The Emergency Food Assistance Program is administered by the Office of Emergency Intervention Services, which responds to citywide emergencies such as hurricanes and snow storms, administers home energy assistance benefits and emergency food assistance, and conducts nutritional outreach for the Supplemental Nutrition Assistance Program.