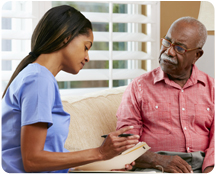 Dual Eligible (Medicare and Medicaid) Consumers
Dual eligible consumers, age 21 and over, who seek community-based long term care services for over 120 days are required to enroll into a Managed Long Term Care plan to receive those services. Consumers who seek community based long term care assistance can be directed to New York Medicaid Choice (NYMC) for information and assistance in choosing a plan. NYMC's MLTC phone number is: 888-401-MLTC (6582) | TTY: 888-239-1541
The following populations remain exempt from mandatory MLTC enrollment:
Native Americans
Dual-eligible consumers under the age of 21
Consumers receiving Hospice services at time of application;
Traumatic Brain Injury Waiver participants
Nursing Home Transition and Diversion Waiver participants
Individuals who have a developmental disability and are receiving services through a waiver program (OMPDD Waivered Services)
Medicaid fee for service non-dual surplus

eligible
Individuals enrolled in a Managed Long-term Care plan are not subject to a lock-in period. An enrollee can request a transfer from one MLTC plan to another at any time.
Non-Dual eligible (Medicaid Only) Consumers
Non-dual eligible (Medicaid only) consumers not otherwise exempt or excluded from managed care are required to enroll in a managed care plan and receive any needed community-based services through the plan.
Individuals enrolled in a mainstream managed care plan are subject to a twelve (12) month lock-in period following the 90 day grace period. An enrollee with HIV or AIDS may request transfer from a managed care plan to an HIV SNP, or from an HIV SNP to another HIV SNP at any time.
Continuity of Care
For transitioning Personal Care and LTHHCP consumers, the existing Personal Care or LTHHCP service plan will continue for at least 90 days after the effective date of managed care or MLTC enrollment or until the Plan's assessment (whichever is later). Service providers will remain unchanged throughout the transition period. Plan enrollees have appeal and fair hearing rights as member of the plans.
Access to Additional Services
Access to additional services is available from the New York State Department of Health
The NYC Department for the Aging also offers various services that interlace with the long-term care system, including 329 senior centers, caregiver and in-home services, the Long-Term Care Insurance Resource Center, and case management services. These services can be accessed by going to 311 Online or through the NYC Department for the Aging.
Learn more about the services provided by the NYC Mayor's Office for People with Disabilities or contact MOPD at the following:
100 Gold Street, 2nd Floor
New York, NY 10038
Tel: 212-788-2830
Fax: 212-341-9843
TTY: 212-788-2838 (212)
Community-Based LTC Services
Below is the community-based service for which HRA either provides access or authorizes services.
For more information, please go to 311 Online or contact HRA's Infoline at 718-557-1399.